| | | |
| --- | --- | --- |
| BEHOLD THE SUN: Would you like to see fiery prominences and new-cycle sunspots with your own eyes? On sale now: Personal Solar Telescopes. | | |
GAMMA-RAY BURSTS: More than four decades after they were discovered, gamma-ray bursts continue to mystify astrophysicists. Next week, experts from 25 countries will converge on Huntsville, Alabama, to discuss and debate clues to the biggest explosions since the Big Bang itself: full story.
SOLAR HOT SPOTS: NASA's Stereo-B spacecraft is monitoring a string of hot spots where magnetic fields are poking through the solar surface. All four are located at high latitude, a sign that they belong to new Solar Cycle 24: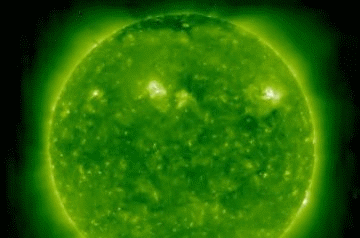 Stereo-B enjoys a unique view of the sun. Because it lags 38o behind Earth in its orbit, Stereo-B is able to look down on a broad swath of sun invisible from our planet. The spacecraft's "over-the-horizon" view clearly reveals the line of active regions.
Does this mean Solar Cycle 24 is picking up steam? Probably, yes, but only a little. Just one of these active regions is a full-fledged sunspot (numbered 1005), while the others are merely "proto-sunspots" without a dark sunspot-core. It beats another blank day on the sun! Stay tuned for developments.
SUNSET SKY SHOW: Last Saturday, Oct. 11th, Hawaii photographer Stephen O'Meara joined a crowd of onlookers on the southeastern flank of Mauna Loa "to behold the power of a volcano," he says. "Instead, I was captivated by the magic of Venus."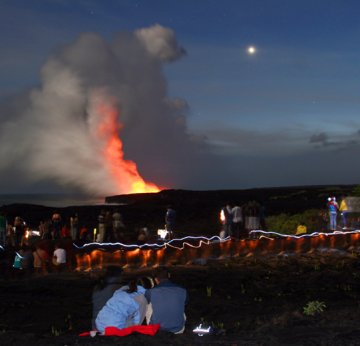 "Named for the Roman goddess of love, beauty, and fertility, Venus shines down on two lovers in a 'warm' embrace, as they watch molten lava from Kilauea volcano pouring into the tepid Pacific and expanding Hawaii's Big Island's southeast coastline."
At the end of the month, this sunset sky show is going to get even better. "On All Hallow's Eve, Venus will be joined by a slender crescent Moon," notes O'Meara. "Both will share the western stage with fiery red, Antares – the 1st-magnitude heart of Scorpius, the Scorpion. What a treat!" [Halloween sky map]
---
Oct. 2008 Aurora Gallery
[Previous Octobers: 2007, 2006, 2004, 2003, 2002, 2001, 2000]