| | | |
| --- | --- | --- |
| FLYBY ALERT! Space shuttle Discovery launches on May 31st. Get your flyby alerts from Space Weather PHONE | | |
MISSING SUPERNOVAS: Astronomers have long believed that stars explode in the Milky Way about once every 50 years. Yet the last time anyone actually witnessed a supernova was in the year 1680. Where are all the missing supernovas? At long last, NASA's Chandra X-ray Observatory has found one: full story.
LUNAR TRANSIT: Last night, the International Space Station flew over Slovakia--and right in front of the Moon. A team of astronomers led by Roman Piffl had their Nikon D200 ready and they caught the winged silhouette passing just south of the Sea of Tranquillity: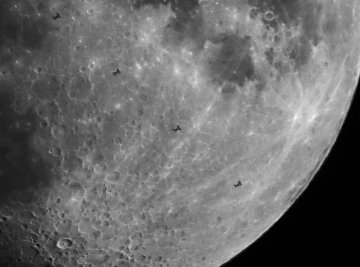 Photo Credit: Roman Piffl, Tomáš Maruška, Ivan Majchrovič, Miro Grnja
"It was really amazing!" says Piffl. "We were on the centerline of the transit 20 km southeast of Bratislava, the capital of Slovakia."
Now is a good time for Europeans to see the International Space Station with their own eyes. For the next two weeks, the behemoth spacecraft will be making a series of bright flybys of Europe, sometimes three or four times a night. Try our new global Satellite Tracker to find out when to look.
SOLAR VORTEX: "In spite of solar minimum, there seems to be plenty of action on the sun," reports amateur astronomer Peter Schlatter of Wohlen, Switzerland, who yesterday witnessed a spectacular vortex swirling on the sun's eastern horizon. Click on the image to launch a movie he made using his backyard telescope and a Coronado solar filter: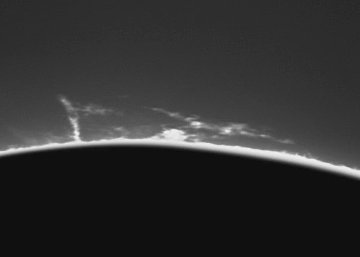 movie formats: Quicktime, mp4, avi
Indeed, the limb of the sun is where the action is. "A huge prominence emerged today looking like a monster rising from a sea of fire," reports David Leong of Hong Kong: photo. None of this activity is explosive or threatening to cause geomagnetic storms on Earth--it's just a pretty show. If you have a solar telescope, take a look.
more images: from Pascal Paquereau of Mouzeuil-Saint-Martin, Vendée, France; from Mark Seibold of Oregon; from Maxim Usatov of Prague, Czech Republic; from C. Miller, C.Lyons, B. Atkins, J. Odong and J. Stetson of South Portland, Maine; from Dave Gradwell of Birr Ireland; from Cai-Uso Wohler of Bispingen, Germany; from Anthony Jennings of North Manchester UK; from Peter Paice of Belfast, Northern Ireland; from Patricia Cannaerts of Belgium;
---
April 2008 Aurora Gallery
[Aurora Alerts] [Night-sky Cameras]