| | | |
| --- | --- | --- |
| AURORA ALERT: Did you sleep through the Northern Lights? Next time get a wake-up call: Spaceweather PHONE. | | |
MARS IS ALIVE: A team of NASA and university scientists has discovered "substantial plumes" of methane floating through the atmosphere of Mars. Their discovery indicates Mars is either biologically or geologically active. Get the full story from Science@NASA.
AURORA WATCH: Sometimes, a gentle gust is all it takes. Last night, the solar wind pressed oh-so-gently against Earth's magnetic field and triggered an unexpected display of auroras around the Arctic Circle. Pete Lawrence and Dr Chris Lintott send this snapshot from Tromso, Norway: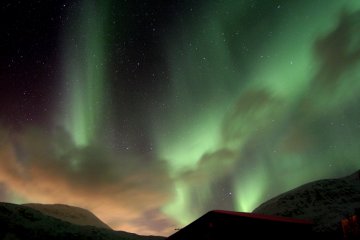 "[It was] a fantastic and awe inspiring display with lots of variety and incredible diversity of structure," says Lawrence, "all the more appreciated bearing in mind that this was supposed to be a quiet night for the aurora!"
A less-gentle gust is on the way. A stream of solar wind flowing from a coronal hole on the sun is blowing toward Earth, due to arrive on Jan. 18th. High latitude sky watchers should be alert for auroras this weekend.
UPDATED: Jan. 2009 Aurora Gallery
[Previous Januaries: 2008, 2007, 2005, 2004, 2001].
SPACECRAFT FLYBY: On Jan. 14th, NASA's Stardust-NeXT spacecraft flew past Earth only 5700 miles above the planet's surface. It was a gravity assist maneuver designed to fling the probe toward Comet Tempel 1 for a rendezvous on Valentine's Day 2011. In Utah, NASA Solar System Ambassador Patrick Wiggins photographed the flyby using his Celestron 14-inch telescope: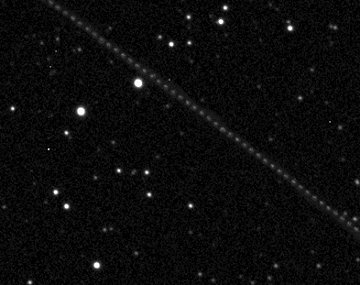 Wiggins took 76 pictures which fellow astronomer Howard Jackman combined into the composite image shown above. "The data spans the time period 0514 to 0547 UT on Jan. 14th," says Jackman.
Stardust-NeXT is now hurtling toward Comet Tempel 1, a place NASA has been before. In 2005, the Deep Impact spacecraft flew past Tempel 1 and blasted a hole in its nucleus. This was supposed to give astronomers their first look inside a comet. Just one problem: they couldn't see a thing. The debris cloud kicked up by the impactor was surprisingly dense and hazy, and prevented photography of the underlying crater. No one knows what the impact revealed! Stardust-NeXT is going back for a second look now that the dust has settled: full story.
more images: from Timur Kryachko of the Special Astrophysical Observatory of the Russian Academy of Science, Karachay-Cherkess Republic, Russia
---
Comet Lulin Photo Gallery
[sky map] [Comet Hunter Telescope]