| | | |
| --- | --- | --- |
| SIGHTINGS: Would you like a call when the space shuttle is about to fly over your home town? Sign up for Spaceweather PHONE. | | |
SUNSET PLANETS: When the sun goes down tonight, step outside and look southwest. What you see might surprise you: Venus and Jupiter, so far apart only a week ago, are now beautifully close together. The two brightest planets are rapidly converging on a spot in Sagittarius where they will form a rare double-conjunction with the Moon on Dec. 1st. It's a good show; start watching now: sky map.
SEE THE SHUTTLE: Shuttle Endeavour is in orbit and you may be able to see it. Check the Simple Satellite Tracker for flyby times.
SHUTTLE LAUNCH: Space shuttle Endeavour blasted off from Kennedy Space Center last night at 7:55 pm EST. The spectacular after-dark launch propelled the shuttle out of Earth's atmosphere and into orbit for a two-week rendezvous with the International Space Station (ISS). "Here's the view from Titusville, Florida," says photographer Mike Deep: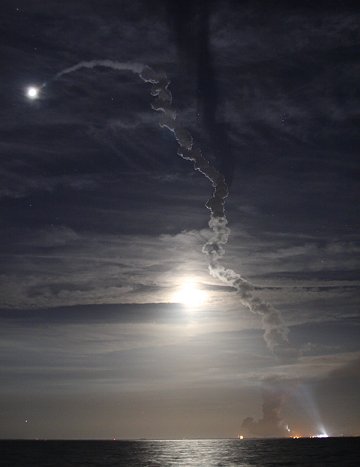 Click to view the image with labels
"The combination of the launch, a nearly full moon, high cirrus clouds, and some low haze made for an amazing show," he says. "There was even a brief moondog ten minutes before launch. I used a Canon 30D to take these pictures."
Endeavour is now en route to the ISS where it will dock on Sunday and deliver more than 14,000 pounds of supplies and equipment. The station will receive a new toilet and kitchenette, extra sleeping quarters, and a waste recycling system necessary to expand the crew from three to six in the spring of 2009. NASA describes the mission as "home improvement."
more images: from Mark Staples of Cape Canaveral; from Ron Netzley of Palm Bay, Florida; from Adam Bojanowski of Oviedo, Florida;
LUNAR TRANSIT: On Nov. 10th in the sky above Livermore, California, a shadow flitted across the nearly-full Moon. It moved too fast for the human eye, but astronomer Ed Morana's digital video camera was able to freeze the action: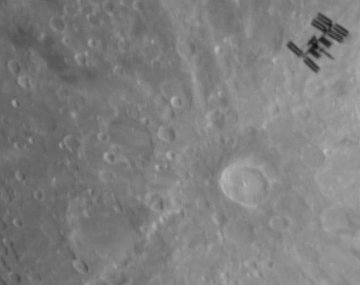 Photo details: Meade 10" LX200GPS, Watec 902H CCD video camera
"It's the International Space Station almost directly in front of crater Tycho" says Morana. The ISS orbits Earth at 17,000 mph; Morana's 4-second video of the transit shows how quickly it crossed the Moon. "In the field, I did not see the ISS transit at all. It was only when I returned home and reviewed the video tape, that I noticed a very fast streak zipping through the corner of the field of view."
Morana is a long-time photographer of lunar transits and he has noticed big changes in the space station's silhouette. "Additional solar panels, two science labs (Columbus and Kibo), and a docking port (Harmony) have all been deployed since my last transit photo two years ago." Here is a side-by-side comparison.
The silhouette will change again on Sunday, Nov 16th, when shuttle Endeavour docks, adding its winged outline to that of the space station. All you need now is a transit prediction.
---
2008 Taurid Fireball Gallery
[sky map] [2005 Taurids: on Earth, on the Moon]