FEROCIOUS CROISSANTS: For the first time, NASA spacecraft have traced the 3D shape of solar storms known as coronal mass ejections (CMEs). It turns out the most ferocious CMEs resemble something from a French bakery. Get the full story from Science@NASA.
SLOW-MOTION EXPLOSIONS: How deep is solar minimum? Consider this: The most powerful solar explosions are now moving in slow motion. "Lately, coronal mass ejections (CMEs) have become very slow, so slow that they have to be dragged away from the sun by the solar wind," says researcher Angelos Vourlidas of the Naval Research Lab. Here is an example from April 11th: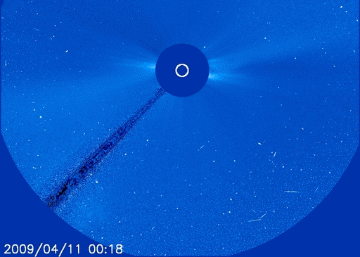 Each second in the SOHO animation corresponds to an hour or more of real time. "The speed of the CME was only 240 km/s," says Vourlidas. "The solar wind speed is about 300 km/s, so the CME is actually being dragged."
Vourlidas has examined thousands of CMEs recorded by SOHO over the past 13 years, and he's rarely seen such plodding explosions. In active times, CMEs can blast away from the sun faster than 1000 km/s. Even during the solar minimum of 1996, CMEs often revved up to 500 or 600 km/s. "Almost all the CMEs we've seen since the end of April 2008, however, are very slow, less than 300 km/s."
Is this just another way of saying "the sun is very quiet?" Or do slow-motion CMEs represent a new and interesting phenomena? The jury is still out. One thing is clear: solar minimum is more interesting than we thought.
FLY SPECK: Before you continue reading, flick away any insects that might be crawling across your screen. Done? The one you couldn't remove is the International Space Station (ISS):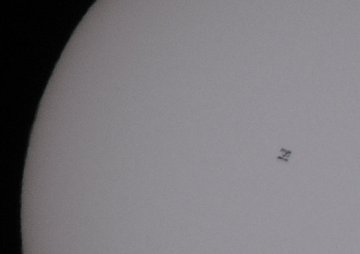 Raymond Dubois of Ottawa, Canada, photographed the station's winged silhouette zipping in front of the sun on April 12th. "This was my fourth try at photographing a solar transit of the ISS, and I finally succeeded," he says. "I mounted my camera (a Nikon D300) on a Baader solar-filtered telescope and let it rip at 8 frames per second. The photo shown above is exactly what I captured--no corrections or manipulations were done."
The station's insectoid appearance is a result of recent construction. Last month, astronauts added an enormous new pair of solar arrays to the station's starboard side. The light-collecting wings are producing enough power to double the size of the crew from three to six and also to double the number of science experiments underway in the station's laboratories.
The station's wings look great in silhouette, but they look even better shining among the stars at night. Check the Simple Satellite Tracker for viewing times.
---
UPDATED: April 2009 Aurora Gallery
[previous Aprils: 2008, 2007, 2006, 2005, 2004, 2003, 2002]
---