| | | |
| --- | --- | --- |
| Where's Saturn? Is that a UFO--or the ISS? What's the name of that star? Get the answers from mySKY--a fun new astronomy helper from Meade. | | |
AURORA WATCH: For the eighth day in a row, a solar wind stream is buffeting Earth's magnetic field and causing high-latitude geomagnetic storms. Sky watchers from Scandinavia to Alaska should remain alert for bright auroras: gallery.
SIGHTINGS: Space shuttle Endeavour has docked to the International Space Station (ISS) and together they are an impressive sight: Yesterday, "I watched them blaze across the predawn sky of Northern Ireland," reports Martin Mc Kenna who caught the pair in a 30-second exposure: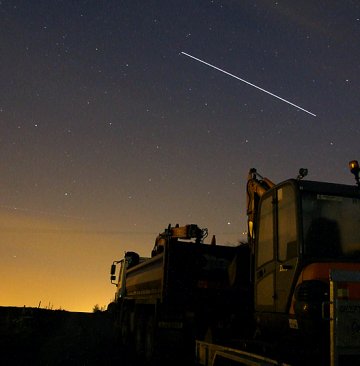 "I was very impressed by their brightness," he says.
A telescope trained on that bright and slowly moving light would have revealed something like this: photo. "Endeavour and ISS had just docked on March 13th when I took the picture," says Mark van der Hum of Naarden, The Netherlands. "I used a Meade LX200 10-inch telescope and a Nikon D80 camera. [The spacecraft showed up very nicely] in a 1/1000 second exposure."
More sightings are in the offing as Endeavor's mission to the ISS continues for another 12 days. Get your flyby alerts from Spaceweather PHONE.
CIRCLES: While we look up at the ISS, astronauts on board the space station are looking back--and taking pictures. Among a batch of March photos just beamed down to Earth are two eye-catching circles: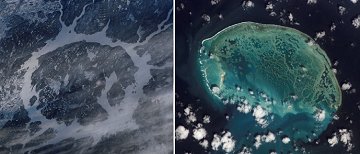 The shapes are similar, but their nature is oh-so different. On the left is the Manicouagan Crater, which formed about 200 million years ago when an asteroid barreled into northern Canada. The present day terrain, eroded by long years of weather and glaciers, supports a 70-kilometer diameter hydroelectric reservoir in the telltale form of an annular lake.
On the right is an atoll in the Gulf of Mexico not far offshore the resorts of Cancun. Unlike the Manicouagan Crater, an ancient marker of local extinction, the atoll is a sign of life. The island's coral boundary is formed by marine organisms that thrive in warm, nutrient-rich tropical waters. Climate change and pollution threaten the health of these important organisms; as the photo shows, the ISS is in a good position to monitor their well-being.
For more snapshots from space, visit NASA's Gateway to Astronaut Photography.