| | | |
| --- | --- | --- |
| Listen to radar echoes from satellites and meteors, live on listener-supported Space Weather Radio. | | |
SUBSIDING STORM: A geomagnetic storm (Kp=5) that began during the early hours of Feb. 15th when the IMF tipped south is subsiding. Nevertheless, solar wind conditions remain favorable for high-latitude auroras. During the storm, Northern Lights descended as far south as Minnesota in the United States. Solar storm alerts: text, voice.
SWEET LIGHTS: For reasons not fully understood by forecasters, a disturbance rippled through Earth's magnetic field on Feb. 14th. Perhaps it was Cupid's arrow. The impact sparked some sweet lights around the Arctic Circle: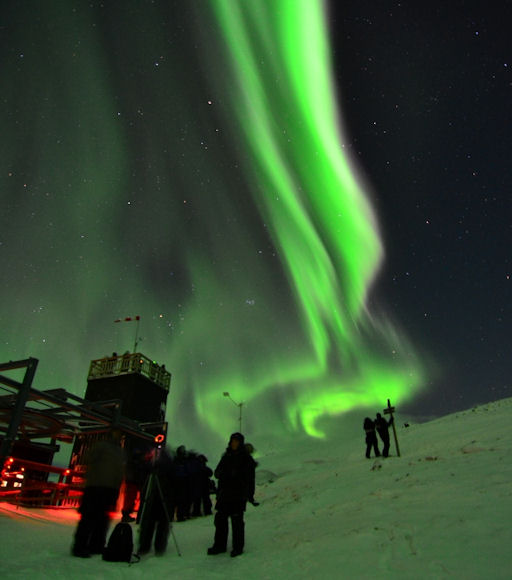 "On several occasions the sky was full of auroras from horizon to horizon," says photographer and aurora tour guide Chad Blakley of Abisko National Park, Sweden. "We had many happy couples celebrating with us tonight. Most of our guests agreed that it was the best Valentine's day that they had ever shared together."
There has been some speculation that the display was caused by a CME, launched from the sun on Feb. 10th and reaching Earth on Feb. 14th. However, there is no clear signature of a CME impact in local solar wind data.
Update: Geomagnetic activity intensified even more on Feb. 15th when the interplanetary magnetic field (IMF) near Earth tilted south, opening a crack in Earth's magnetic field. Solar wind poured in and fueled a G1-class geomagnetic storm, now subsiding.
more images: from Matt Melnyk flying 25,000 feet over Alberta, Canada; from Claus Vogel of Pelly Crossing, Yukon; from Roger Schneider of Tromso, Norway; from Tim of Trysil, Norway; from Beate Kiil Karlsen of Norway; from Ashton Seth Reimer of Kjell Henriksen Observatory in Svalbard, Norway; from Mike Criss near Coldfoot, Alaska
EVENING SKY SHOW: As February reaches its mid-point, the evening sky is full of lights: Venus, Jupiter, and lately the International Space Station as well. Xiang Zhan sends this report from Beijing, China: "On Feb 14th, my wife and I spent a romantic Valentine's Day. We embraced each other under the starry night, and watched the ISS glide between the two bright planets." (continued below)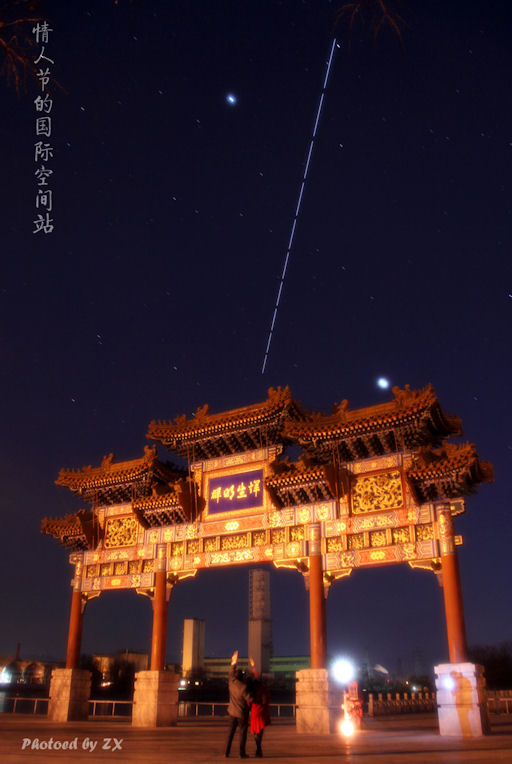 "The space station was very bright, almost like Venus," he adds. "The Chinese characters on the top left mean ISS in Valentine's Day."
Sky watchers around the world are enjoying nightly conjunctions of the ISS, Venus, and Jupiter. Some of these encounters are very close indeed. Check SpaceWeather's Simple Satellite Tracker and Flybys App for local flyby times.
more images: from Josep Julia G. of Gandia, Spain; from Bob S Matzen of Blair, Nebraska; from Luis Argerich of Mercedes, Buenos Aires, Argentina; from Mike McCabe of Bridgewater, Massachusetts
---
January 2012 Aurora Gallery
[previous Januaries: 2010, 2009, 2008, 2007, 2005, 2004]
---
Comet Lovejoy Gallery
[previous comets: McNaught, Holmes, Lulin, Tuttle, Ikeya-Zhang]