| | | |
| --- | --- | --- |
| Where's Saturn? Is that a UFO--or the ISS? What's the name of that star? Get the answers from mySKY--a fun new astronomy helper from Meade. | | |
LUNAR ECLIPSE: On Wednesday evening, February 20th, the full Moon over the Americas will turn a delightful shade of red and possibly turquoise, too. It's a total lunar eclipse—the last one until Dec. 2010: full story.

SPY SATELLITE UPDATE: The Pentagon's first attempt to hit USA 193 with a missile could come "within days" according to press reports. Until then, sky watchers can catch the malfunctioning spy satellite as it makes a series of final passes over many US towns and cities. Friedrich Deters sends this movie from LaGrange, North Carolina: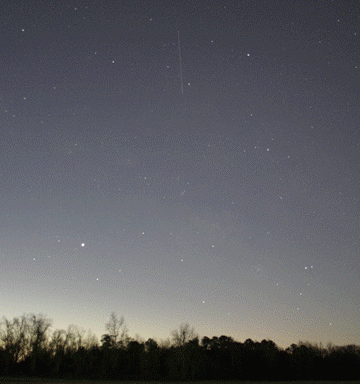 Click to view the complete movie
The clip shows USA 193 rounding the horizon at dawn on Feb. 10th. The source of its luminosity: reflected sunlight. "This was the first time I could see the decaying satellite," says Deters. It was bright enough to photograph using an ordinary digital camera--"my Canon Rebel XT."
If Pentagon missiles miss USA 193, a distinct possibility, rhe satellite will continue to circle Earth, slowly sinking into the atmosphere as its orbit decays. In early March (March 6th is an oft-repeated estimate) the satellite would reenter and break up, producing a brilliant fireball and scattering pieces over some yet-to-be-determined part of Earth. Officials worry that hydrazine propellants could produce a toxic cloud of uncertain dimension. A missile-strike would shift these events from Earth to the relative safety of space--or so the thinking goes.
Would you like to see USA 193 with your own eyes? The upcoming flybys of North America occur in early evening; no waking up at dawn required! Flyby timetables may be found at Heavens Above. You can also receive telephone and email alerts when the satellite is about to fly over your backyard by subscribing to Spaceweather PHONE.
more images: from Thomas Dorman near Horizon City, Texas; from Becky Ramotowski of Tijeras, New Mexico;

SPYING BACK: Last December 23rd, USA 193 flew over England where veteran satellite observer John Locker was waiting with his 8-inch telescope. Guiding the optics by hand with a webcam at prime focus, he photographed the shadowy spy satellite: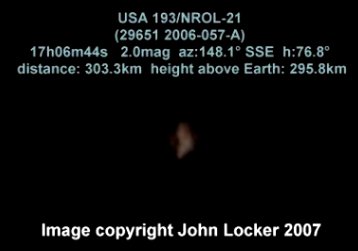 At first glance, the image seems indistinct, but a closer inspection reveals much: "What can be seen is the golden body of the satellite and a lighter-colored sensor array," says Locker. "More importantly, what cannot be seen are solar panels, assuming it has them. Solar panels would make the spacecraft about 20 meters across. However, the widest point on the image is 4 to 5 meters. This suggests to me that the satellite failed very early in the launch campaign, before the command to deploy the panels was sent."
Locker's photo is subject to copyright restrictions and is used with permission on Spaceweather.com. More of Locker's sat-photos may be found here. It is instructive to compare his images of the International Space Station to the above snapshot of USA 193; the spy satellite is a small bird, indeed.