| | | |
| --- | --- | --- |
| Turn your cell phone into a field-tested satellite tracker. Works for Android and iPhone. | | |
NEW SATELLITE TRACKING TOOL: Have you ever wondered, what's orbiting over your head right now? A new satellite-tracking tool called WhatSat can answer that question for you. It's an app for Android phones that tells you what's overhead, helps you find satellites in the night sky, and "tags" satellites you've seen. Many satellite-tracking tools are available, but none is quite like this; view the demo video to learn what makes WhatSat unique.
PLANETARY TRIANGLE: Another day, another alignment of planets. "This morning, May 14th, the 'planetary triangle' created by Venus, Jupiter and Mercury adorned the eastern sky behind my nearby mosque," reports Shahrin Ahmad, who snapped this picture from his rooftop observatory of Sri Damansara, Malaysia: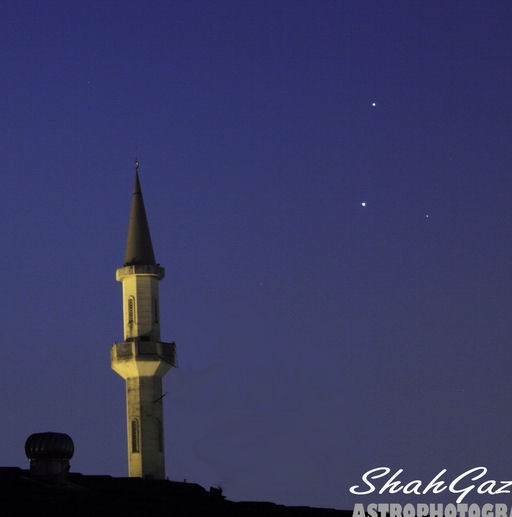 "I was lucky to have a clear sky today during the hazy season in Kuala Lumpur," Ahmad. (As daily readers know, we predicted that May 14th would be a lucky day--another accurate forecast from spaceweather.com.)
This planetary triangle is part of the Great Morning Sky Show of May 2011. Every day this month begins with a shape-shifting arrangement of bright planets in the eastern sky. One day it's a line, then a trapezoid, then a triangle. What will tomorrow's geometry be? To find out, set your alarm for dawn.
more images: from Kosma Coronaios of Louis Trichardt, South Africa; from Geoff Sims of Turrimetta Beach, Sydney, Australia; from Melissa Hulbert of Sydney, Australia; from Darrin of Ipswich, Queensland, Australia; from Paul Tatum at the National Mall west of the US Capitol, Washington DC; from Elizabeth Warner of Arlington, VA; from Marion Haligowski of Phoenix, Arizona;
MAMMATUS OVER MINNESOTA: On May 10th, a severe storm captured national attention when it dumped golf-ball-sized hail on a Minnesota Twins baseball game. "I missed the hail," reports John Rogers of New Hope, Minnesota, "but I got a nice view of the clouds that formed after the storm passed." He snapped this picture in waning twilight at 8:30 pm local time: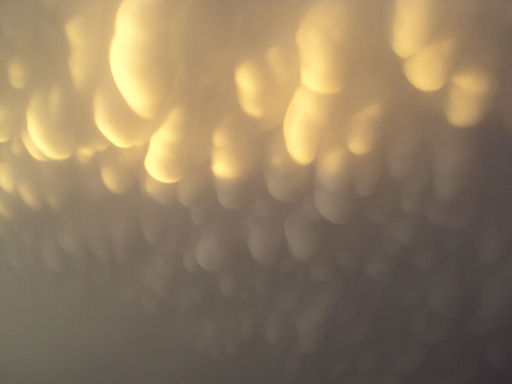 These are mammatus clouds. Named for their resemblance to a cow's underbelly, they sometimes appear at the end of severe thunderstorms when the thundercloud is breaking up. Researchers have called them an "intriguing enigma," because no one knows exactly how and why they form. The clouds are fairly common but often go unnoticed because potential observers have been chased indoors by the rain. If you are one of them, dash outside when the downpour stops; you could witness a beautiful mystery in the sky.
more images: from John A. Ey III of Tucson, Arizona; from Karla Dorman of Burleson, Texas,
---
April 2011 Aurora Gallery
[previous Aprils: 2010, 2009, 2008, 2007, 2006, 2005, 2004, 2003, 2002]