FEROCIOUS CROISSANTS: For the first time, scientists have managed to trace the 3D shape of ferocious solar storms called CMEs--and it's a croissant. Get the full story from Science@NASA.
FLY SPECK: Before you continue reading, flick away any insects that might be crawling across your screen. Done? The one you couldn't remove is the International Space Station (ISS):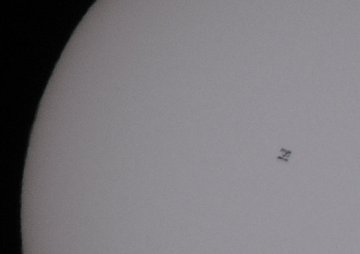 Raymond Dubois of Ottawa, Canada, photographed the station's winged silhouette zipping in front of the sun on April 12th. "This was my fourth try at photographing a solar transit of the ISS, and I finally succeeded," he says. "I mounted my camera (a Nikon D300) on a Baader solar-filtered telescope and let it rip at 8 frames per second. The photo shown above is exactly what I captured--no corrections or manipulations were done."
The station's insectoid appearance is a result of recent construction. Last month, astronauts added an enormous new pair of solar arrays to the station's starboard side. The light-collecting wings are producing enough power to double the size of the crew from three to six and also to double the number of science experiments underway in the station's laboratories.
The station's wings look great in silhouette, but they look even better shining among the stars at night. Check the Simple Satellite Tracker for viewing times.
GREEN VORTEX: It was a dark night in Iceland on April 11th when photographer Agust Gudmundsson pointed his camera north, opened the shutter, and let the sky turn for nearly an hour. He expected to record some garden-variety star trails. What he got instead was a green vortex: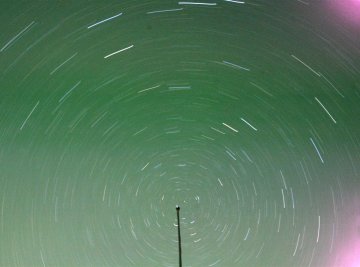 Photo details: Canon 30D, 400 ASA, 52 min, small shaky tripod in strong wind.
"The photograph was colored green and purple by aurora borealis," he says. "The lights were not visible to the unaided eye, but my Canon 30D picked them up nicely." The tall dark object at the bottom is a flagpole. "I positioned my camera so that it pointed directly at Polaris."
More green is in the offing. A solar wind stream is heading toward Earth and it is expected to hit on April 16th or 17th. High-latitude sky watchers should be alert for auroras.
UPDATED: April 2009 Aurora Gallery
[previous Aprils: 2008, 2007, 2006, 2005, 2004, 2003, 2002]
---