LAUNCH POSTPONED: Today's scheduled launch of space shuttle Endeavour to the International Space Station has been postponed due to a leak in the gaseous hydrogen venting system outside the external fuel tank. Managers officially scrubbed the launch for at least 96 hours, and they say the earliest the shuttle could be ready for liftoff is June 17th. [updates]
SOLAR ACTIVITY: This morning, John Stetson of Portalnd, Maine trained his solar telescope on the sun and witnessed an enormous "triangle of fire." Students P. Fitzpatrick and F. Stewart helped him take this picture: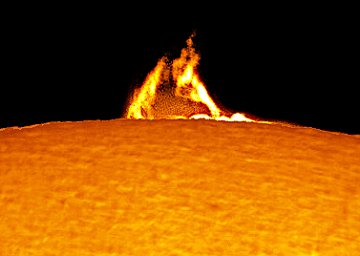 "We really enjoyed observing and imaging this prominence on the sun's northwestern limb," says Stetson.
Although it resembles fire, no combustion is involved. Prominences are glowing clouds of solar plasma held aloft by magnetic fields. The shape of the prominence traces the shape of the underlying magnetic field--in this case a towering triangle. For scale, Earth would fit beneath the arch with room to spare.
There are many more prominences dancing around the edge of the sun today. Readers, if you have a solar telescope, take a look.
more images: from Patrick Pelletier of Serbannes, France; from Marco Vidovic of Stojnci, Slovenia; from Matthias Juergens of Gnevsdorf, Germany
COSMOLOGY BALLOON: On June 11th, researchers at NASA's Columbia Scientific Balloon Facility in Texas launched a telescope named EBEX. Its mission: to measure the faint polarization of cosmic microwave background radiation (CMBR). Linear polarization of the CMBR could prove that the large-scale structure of the Universe today was cast by tiny quantum fluctuations in space just a split-second after the Big Bang. EBEX is probing the earliest moments of creation.
"After seeing alerts that the balloon was crossing central Arizona, I ran outside with my family," reports Jeremy Perez of Flagstaff. "To the naked eye, it was brilliant against the twilight and definitely non-stellar in appearance." (continued below)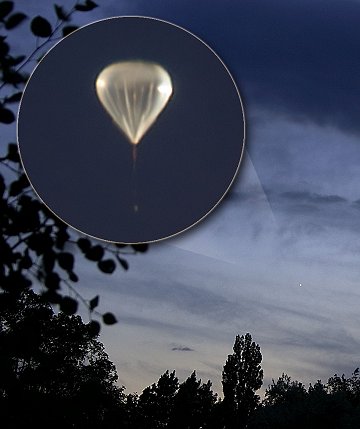 "We got a great look at the balloon and payload through 15 x 70 binoculars. At one point it went through a striking color phase with a delicate pink base and yellow-orange top. I ran in, grabbed my 8-inch telescope and camera (a Canon 300D), and snapped the picture shown above. The great color was gone. but it was still a beautiful sight."
The balloon is still in flight. Sky watchers who wish to attempt a sighting can track its progress here.
---
2009 Noctilucent Photo Gallery
[previous years: 2008, 2007, 2006, 2005, 2004, 2003]
---