| | | |
| --- | --- | --- |
| FATHER'S DAY: Skip the tie. This year, give Dad the stars -- a gift subscription to Space Weather PHONE. | | |
SHUTTLE SIGHTINGS: Space shuttle Discovery is slated to land in Florida on Saturday morning, June 14th, at 11:15 a.m. EDT: ground tracks. This means tonight is your last chance to see Discovery orbiting Earth alongside the ISS. Check our Satellite Tracker to find out if your hometown is favored with a flyby.
Photos: from Rob Ratkowski of Pukalani, Maui; from Graham Palmer of Hastings, New Zealand; from Néstor Camino of Esquel, Patagonia, Argentina.
SPECTACULAR NLCs: "Last night (June 13th), I was amazed by a spectacular display of noctilucent clouds over Maghera, Northern Ireland," reports Martin McKenna. "The glowing blue and white structures were breathtaking and I could see them moving rapidly with my naked eye." He caught the action in this 6-second exposure: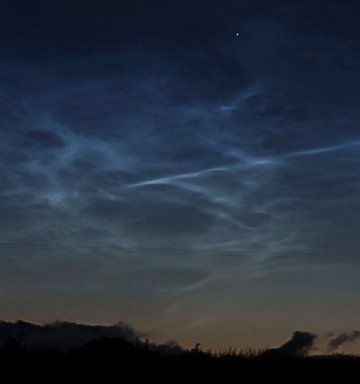 The display extended all the way to the Netherlands. "It was beautiful," says eyewitness Peter Paul Hattinga Verschure of Deventer, who sends this photo.
Summer is the season for NLCs and the first good displays usually come in early June. Right on cue, bright NLCs have been sighted this month in Ireland, N. Ireland, the Netherlands and Canada. What are these glow-in-the-dark clouds? They are swarms of tiny ice crystals about the size of particles in cigarette smoke floating 80+ km above Earth's surface, so high they brush against the edge of space itself. When sunlight strikes the tiny crystals, the clouds glow electric blue.
That is what they are--well known. What makes them, however, is a deep mystery. High-latitude NLCs first appeared in the 19th century after the eruption of super-volcano Krakatoa. At the time the clouds were widely thought to be associated with the eruption, but long after the ash settled, NLCs persisted. In recent years they have intensified and spread with sightings as far south as Utah and Colorado. A NASA spacecraft named AIM is in orbit to investigate.
Readers, especially you at high latitudes, be alert for NLCs in the evenings ahead. Observing tips may be found in our 2008 Noctilucent Cloud Gallery.
Noctilucent Cloud Photo Gallery
["Noctilucent Cloud"--the song] [NLC Basics]
NOT THE ISS: On June 11th in the Netherlands, amateur astronomer Ralf Vandebergh trained his backyard telescope on a speck of light moving across the night sky and snapped this picture: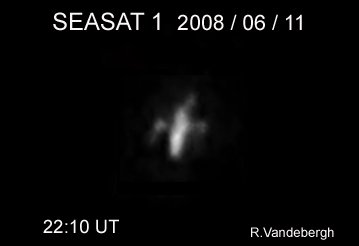 "It looks like a bad photo of the International Space Station (ISS)," he says, "but it isn't. This is a much much smaller object with an orbit twice as high as that of the ISS."
The little winged spacecraft is SeaSat 1. Launched in June 1978, SeaSat 1 was the first satellite to monitor Earth's oceans using synthetic aperture radar (SAR). A massive short-circuit disabled SeaSat 1 only four months later, but that was time enough to demonstrate the feasibility of SAR ocean studies and blaze a trail for radar-sats of the future.
"This old spacecraft is still in our night sky," says Vandebergh. "The pass on June 11th was amazing. It was [about as bright as a 3rd magnitude star] and visible for 9 minutes in total."
Readers, would you like to see SeaSat 1? We've just added it to our Satellite Tracker: click here for flybys.
---