| | | |
| --- | --- | --- |
| NEW AND IMPROVED: Turn your iPhone or iPod Touch into a field-tested global satellite tracker. The Satellite Flybys app now works in all countries. | | |
WEEKEND SPACESHIPS AND PLANETS: Sometthing special is happening this weekend. Venus and the Moon are gathering for a sunset conjunction on Saturday and Sunday, May 15th and 16th. On the same nights, the ISS is going to be flying over many US towns and cities. And if Atlantis launches on schedule--wow! People could witness a very rare meeting of the shuttle, station, Venus and the Moon. Details and observing tips may be found in today's story from Science@NASA.
3D SPACE STATION: Imagine a giant spaceship, a 750,000-lb behemoth as wide as a football field with solar wings that dwarf a modern airliner. Robotic arms are busy working around its exterior, careful to avoid a number of smaller spacecraft attached to docking ports. This amazing ship glides across the night sky--and suddenly jumps toward you in startling 3D!
You don't have to use your imagination, because it's really about to happen. First, look at the image below and cross your eyes; merge the two space stations into a single 3D object. Next, click on the image to set the scene in motion (DivX required):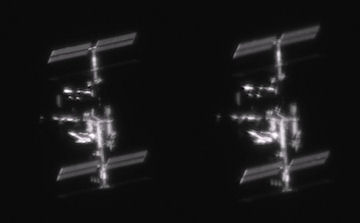 Click to view a 4 MB avi movie. (DivX required)
"I made the movie on April 24th when the International Space Station passed over my home in France," says Theirry Legault. Setting adjacent video frames side by side provided the 3D effect. "All you have to do is squint."
Legault, who is legendary among astrophotographers for his extraordinary shots of spacecraft and other things, recorded the flyby through a 10" Meade ACF telescope on a modified Takahashi EM-400 mount. The trick, he says, was using a green laser to pinpoint the ISS and a custom-made double joystick to track the spacecraft as it glided across the sky. Click here for the full story.
ISS Flyby Predictions: on the web and on your iPhone.
IN THE SHADOW OF THE SKYMASTER: Have you ever been to the carnival on a sunny day, and slipped into the shadow of a midway ride for a quick break from the heat? Next time, don't forget to look up at the sun: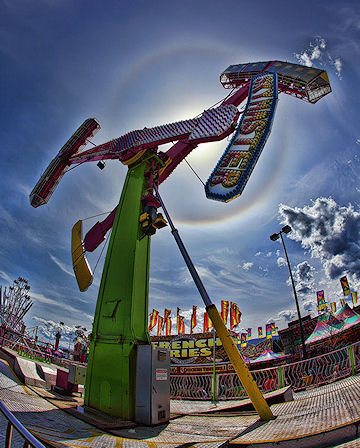 Robb McCaghren took the picture May 9th from a carnival on Vancouver Island, British Columbia. "The sun was surrounded by a beautiful halo, and the shadow of the Skymaster ride was the perfect place to photograph it," he says. "I used a Canon 5D MKII with a fisheye lens."
The halo was caused by sunlight shining through ice crystals in the clouds. It might have been warm on the ground, but it was freezing cold 10 km overhead where icy wisps of cirrus were drifting by. High cirrus clouds remain icy even during the hottest days of summer--so find the shadows and be alert for sun halos.
---
May 2010 Aurora Gallery
[previous Mays: 2008, 2005, 2004, 2003, 2002] [aurora alerts]