APOPHIS PRE-ANNIVERSARY: Twenty years from today, on April 13th, 2029, asteroid Apophis will buzz Earth only 18,300 miles above the planet's surface--well inside the belt of geosynchronous communications satellites. At closest approach, the 300-meter-wide asteroid will shine like a 3rd magnitude star, visible to the unaided eye from cities in Africa, Europe and Asia. There is a small chance (1 in 45,000) that the 2029 encounter will bend the asteroid's orbit so that it returns to Earth and actually hits the planet on April 13th, 2036. Experts believe that future observations will probably rule out a collision. Nevertheless, NASA and others are thinking about asteroid deflection strategies ... just in case.
RADIO STORMS ON JUPITER: On April 11th, the loudspeaker of Thomas Ashcraft's 21 MHz radio telescope in New Mexico suddenly began to hiss and crackle. The sounds grew louder as Jupiter rose in the blue morning sky. "I am pleased to report," says Ashcraft, "a successful recording of Jovian S-bursts--the first of 2009." Click on the image to listen: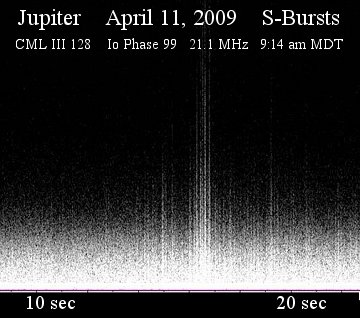 The staccato pops sound like lightning in the loudspeaker of a car radio, but lightning did not make these sounds. S-bursts are caused by natural radio lasers in Jupiter's magnetosphere that sweep past Earth as Jupiter rotates. Electrical currents flowing between Jupiter's upper atmosphere and the volcanic moon Io can boost these emissions to power levels easily detected by ham radio antennas on Earth. Jovian S-bursts and L-bursts can mimic the sounds of woodpeckers, whales, and waves crashing on the beach. Here are a few audio samples: S-bursts, S-bursts (slowed down 128:1), L-Bursts
"I recorded the storm in broad daylight," notes Ashcraft. "One of the advantages of this long solar minimum is that the daytime ionosphere is quieter and more transparent to decametric radio waves. There will definitely be more good Jupiter storms in the months to come." Stay tuned!
SUNDOGS AND DONKEY SHADOWS: The next time you're out walking on a sunny day and you meet a donkey, duck into its shadow. It's a great place to find rings around the sun: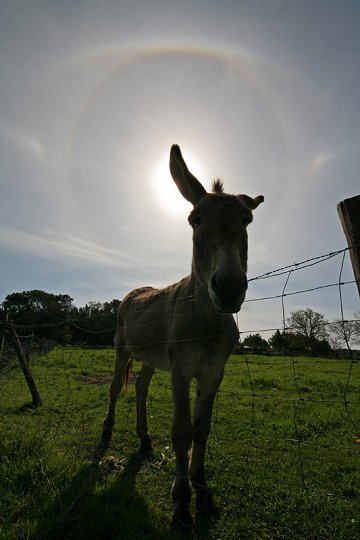 Yesterday, Erwan Henry of Carnac, France, followed those instructions and found five different ice haloes: "I saw a parhelic circle with sundogs, a 22o sun halo, an upper tangent arc and an infralateral arc. I was so happy to see an entire parhelic circle for the first time!"
Halos like these are often overhead--and just as often overlooked because there is nothing handy to block the glare. Can't find a donkey? Fingers, trees, flags and weather globes work, too. Take a look!
---
---
April 2009 Aurora Gallery
[previous Aprils: 2008, 2007, 2006, 2005, 2004, 2003, 2002]