| | | |
| --- | --- | --- |
| Where's Saturn? Is that a UFO--or the ISS? What's the name of that star? Get the answers from mySKY--a fun new astronomy helper from Meade. | | |
SPACE STATION FLYBYS: Sky watchers in North America might notice a bright light streaking across the evening sky this weekend. It's the International Space Station. The busily expanding station is now as luminous as Venus even when it doesn't fly directly overhead; some observers report seeing it through clouds. US and Canadian readers, find out when to look using our new Simple Satellite Tracker.
NEW CYCLE SPOT: Solar Cycle 24 began on Jan. 4th with the appearance of a magnetically-reversed, high-latitude sunspot. After that, more than three months passed without another new-cycle spot--until this weekend. The second sunspot of Solar Cycle 24 has finally materialized: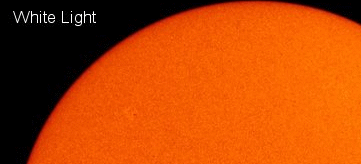 The images shown above were obtained on April 13th by the Solar and Heliospheric Observatory (SOHO). The sunspot is a tiny-looking dark speck in the white light image. Shades of gray in the magnetogram trace the sunspot's underlying magnetic polarity; the N-S pattern signals its membership in Solar Cycle 24.
This is not a large or impressive sunspot, but it does confirm that Solar Cycle 24 has truly begun. In the months ahead, we can expect more new cycle spots as solar activity emerges from its current low ebb and surges toward the next Solar Maximum expected in 2011-12. Stay tuned!
more images: from Matt Wastell of Brisbane, Australia; from Pete Lawrence of Selsey, West Sussex, UK; from Stephen Ames of Hodgenville, KY; from Cai-Uso Wohler of Bispingen, Germany; from Jan Timmermans of Valkenswaard, The Netherlands; from Peter Paice of Belfast, Northern Ireland;
SOLAR TRANSIT: Good thing TIE fighters have heat shields. Oh wait, it's just the International Space Station (ISS):
John Stetson photographed the ISS transiting the sun over Falmouth, Maine, on April 8th. It was a split-second affair: "The transit movie lasts about 11 seconds," he says, "but the actual transit lasted less than one second."
The TIE-fighter shape of the silhouette traces the space station's impressively long and recently unfurled double solar arrays. No heat shield was required because, although the station appears to be skimming the surface of the sun, it is really only 200 miles above Earth. Even so, it is one hot picture!
---
UPDATED: April 2008 Aurora Gallery
[Aurora Alerts] [Night-sky Cameras]