Auroras for Christmas? It could happen... Sign up for SpaceWeather PHONE.
HOUR OF THE GEMINIDS: The 2005 Geminid meteor shower peaks on Dec. 13th and 14th. Bad timing. The glaring nearly-full Moon will be out on those nights, wiping out all but the brightest meteors. There is, however, one hour when the shower can be seen in full force. (continued below)

Right: Geminid meteors over Texas in 2004. Credit: Jason A. C. Brock. [gallery]
Between about 4:30 AM and dawn (local time) on Tuesday, Dec. 13th, the Moon will be at or below the horizon, briefly leaving the sky dark for Geminid meteors. If you're awake and watching, you might see dozens of shooting stars. [sky map]
EXTRA: Too much moonlight? If you can't see the Geminids, try listening to them via meteor radar: live audio. Just this morning, Stan Nelson of Roswell, New Mexico, heard a ghostly Geminid ping.
ADVANCING SUNSPOTS: Sunspots 822 and 835 popped over the sun's eastern limb this weekend ... and they're heading our way. That is, the sun's rotation is turning them toward Earth. Yesterday, Gary Palmer of Los Angeles photographed the advancing pair: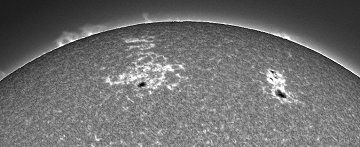 "This is a first light image captured through Coronado's just-announced SolarMax 90 Calcium-K telescope," says Palmer. The violet glow of calcium, which the SolarMax 90 can see, beautifully reveals the plage (French for beach) around each 'spot--very photogenic.
DIAMOND DUST: Sky watcher Don Brown is no stranger to icy halos around the sun. He's seen them many times from his home in Park City, Utah. But the ones he saw at daybreak on Dec. 7th were special--they were so close by, it seemed you could reach out and touch them. Says Brown, "what a beautiful display."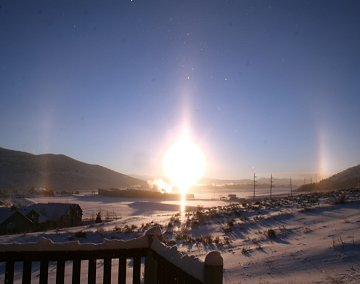 "Winter mornings are the time to see halos in a new guise, apparently close by, suspended in front of distant trees and hills," says atmopheric optics expert Les Cowley. "Summer's halos are made by ice crystals high in cold cirrus clouds. In winter the air at ground level can hold millions of the tiny 'diamond dust' crystals that make some of the very best halos. The Utah display has tall sundogs, parts of a 22 degree halo and upper and lower sun pillars. Some of the individual specks of diamond dust can be seen glinting [near the top of Don's photo]."
"On the next cold morning," Cowley urges, "go see them for yourself!"