| | | |
| --- | --- | --- |
| NEW AND IMPROVED: Turn your iPhone or iPod Touch into a field-tested global satellite tracker. The Satellite Flybys app now works in all countries. | | |
70% FAVORABLE: Space shuttle Atlantis is on the launch pad at Kennedy Space Center poised to begin a 12-day mission to the ISS. Forecasters say there is a 70% chance of favorable weather for an on-time launch at 2:20 pm on Friday, May 14th. NASA's shuttle program is coming to an end, and this will be the final flight of Atlantis.
BIG TWISTER: On May 1st, a magnetic filament on the sun wound itself into a twist and erupted. NASA's STEREO Ahead spacecraft was in the perfect position to observe the blast. Click on the image to set the scene in motion: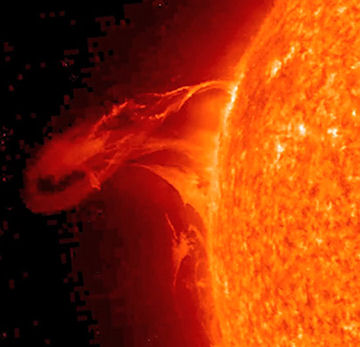 Movies: Quicktime Large (26MB), Small (4MB); MPEG Small (7MB)
The time-lapse movie spans three days, April 30th to May 2nd, and shows not only the big twister, but also many smaller filaments that twist and swirl without erupting. Such activity occurs every day and is part of the dynamism of the ever-changing sun.
More great movies from STEREO may be found here.
IN THE SHADOW OF THE SKYMASTER: Have you ever been to the carnival on a sunny day, and slipped into the shadow of a midway ride for a quick break from the heat? Next time, don't forget to look up at the sun: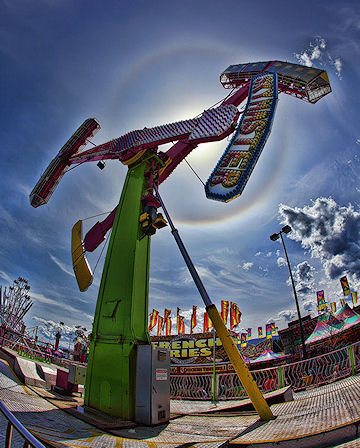 Robb McCaghren took the picture May 9th from a carnival on Vancouver Island, British Columbia. "The sun was surrounded by a beautiful halo, and the shadow of the Skymaster ride was the perfect place to photograph it," he says. "I used a Canon 5D MKII with a fisheye lens."
The halo was caused by sunlight shining through ice crystals in the clouds. It might have been warm on the ground, but it was freezing cold 10 km overhead where icy wisps of cirrus were drifting by. High cirrus clouds remain icy even during the hottest days of summer--so find the shadows and be alert for sun halos.
---
May 2010 Aurora Gallery
[previous Mays: 2008, 2005, 2004, 2003, 2002] [aurora alerts]