APPROACHING COMET: Comet Lulin (C/2007 N3) is swinging around the sun and approaching Earth for a 38-million-mile close encounter in late February. The comet is not yet visible to the naked eye, but it is putting on a nice show for backyard telescopes. Check the gallery for photos and observing tips.
BIG MOONLIGHT: During the weekend, did you have trouble sleeping? It was probably the moonlight. The full Moon of Jan. 10th and 11th was the biggest and the brightest of the year. Marek Nikodem caught it rising over Szubin, Poland, on Saturday night: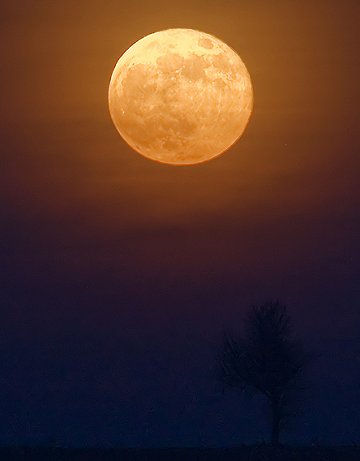 "The moonrise was a wonderful and beautiful moment," he says. "I photographed the event using my Nikon D50."
Astronomers call this a "perigee Moon" because it occurred at perigee, the side of the Moon's elliptical orbit closest to Earth. Those moments of wakefulness you may have experienced were caused by an Earth-Moon distance as much as 50,000 km less than usual. The next perigee Moon: Jan. 30, 2010. That's a doubly special date because not only will the Moon be a perigee Moon, but also a Blue Moon (the second full Moon in a calendar month). Mark your calendar!
more images: from Brandon Brown of Red Deer, Alberta, Canada; from Richard Saunders of Modjesta Peak, California; from Anthony Arrigo of Park City, Utah; from Jim Saueressig of Burlington, Kansas; from Serdar Hepgul of Istanbul, Turkey; from Serdar Hepgul of Istanbul, Turkey; from Luigi De Giglio of Valenzano- Italy; from K. Raghunathan of Chennai, India; from Rob Ratkowski on Kalahaku Overlook, Haleakala National Park, Maui; from Anton Balatskiy of Port Provideniya, Chukotka, Russia; from Mariano Ribas of Buenos Aires, Argentina; from Sylvain Weiller of Saint Rémy lès Chevreuse, France; from Keith Breazeal of Amador County, California; from Bryan Murahashi of San Jose, California; from Mike Salway of Central Coast, NSW Australia;
BLUE FLASH: On Jan. 11, Wolfgang Ott of Stuttgart, Germany, decided to climb to the top of a television tower to watch the sunset. Why would he do that? From up there you can see sunsets like this: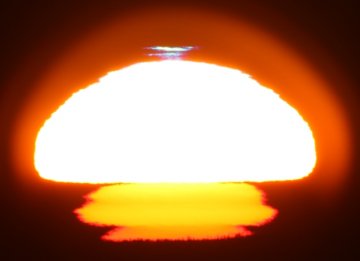 "It was breathtaking," says Ott. "I saw my first blue flash and managed to photograph it using my Canon EOS 450D."
The blue flash is an elusive first cousin of the better-known green flash. Both are caused by air temperature gradients that distort the shape of the sun and magnify wisps of color on the sun's upper rim. Although these mirages happen frequently, the blue flashes they produce are seldom seen. Atmospheric optics expert Les Cowley explains why: "The reason is that rays of the setting sun travel through miles of our dense lower atmosphere and the air preferentially scatters away the blue light. Dust and aerosol dim it further. But when the air is exceptionally clean and we are above ground level we see the blue!"
Fortunately, a TV tower is not required to experience the phenomenon. Cowley offers these observing tips.
---
Jan. 2009 Aurora Gallery
[Previous Januaries: 2008, 2007, 2005, 2004, 2001]