SOLAR ACTIVITY: NASA's STEREO spacecraft and the Solar and Heliospheric Observatory (SOHO) are monitoring an active region about to emerge over the sun's southeastern limb: image. Readers with solar telescopes are encouraged to keep an eye on the region for signs of a possible sunspot.
MYSTERY OF THE MISSING PLUMES: NASA scientists are grappling with a mystery. What did the debris go? Last Friday morning, Oct. 9th, the water-seeking LCROSS spacecraft and its Centaur booster rocket crashed into the floor of crater Cabeus near the Moon's south pole, on time and on target. But the debris plumes that were supposed to issue from the impacts failed to materialize. Consider this image recorded 15 seconds after the Centaur impact by the Palomar Observatory's 200-inch Hale telescope: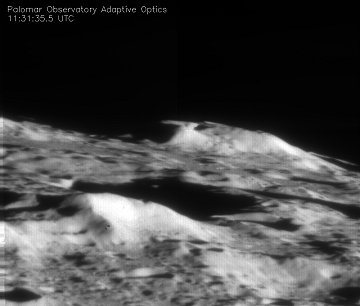 Click to view a 12-minute mpg movie.
Cabeus crater is located in the center, behind the large bright mountain. Plumes of shattered spacecraft and lunar soil should have emerged into sunlight from the shadows, but even Palomar's sensitive adaptive optics system registered nothing.
The absence of debris plumes does not mean LCROSS was a failure. On the contrary, by offering up the unexpected, LCROSS is teaching us something new about the lunar surface and the products of lunar impacts. That makes it, by definition, a successful experiment. All that remains is to figure out what the new information is. Researchers will be announcing their findings in the days and weeks ahead. Stay tuned.
BLINDING FIREBALL: On Friday night Sept. 25th, at approximately 9:03 pm EDT, an asteroid the size of a child's tricycle hit Earth just above Lake Ontario. It was a lucky strike, right in the middle of a network of seven all-sky cameras operated by the University of Western Ontario (UWO). The disintegrating asteroid produced a blinding fireball 100 times brighter than a full Moon. Click on the image to view a movie from the Hamilton, Ontario, station: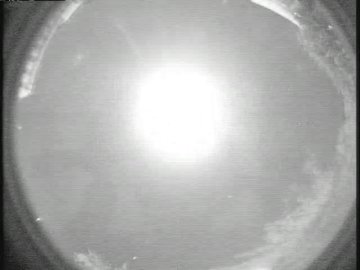 The asteroid exploded in flight, producing strong low-frequency sound waves in the atmosphere. Analysis of infrasound records along with video from the seven camera stations lead researchers to believe that fragments of the asteroid could have reached the ground. "This bright fireball was large enough to have dropped meteorites in a region south of Grimsby on the Niagara Peninsula, providing masses that may total as much as several kilograms," according to a UWO press release.
Researchers at Western Ontario are interested in hearing from anyone within 10 km of Grimsby who may have witnessed or recorded the fireball, seen or heard unusual events at the time, or who may have found possible fragments of the freshly fallen meteorite. Meteorite-hunting tips and more video may be found here.
---
Sept. 2009 Aurora Gallery
[previous Septembers: 2008, 2007, 2006, 2005, 2004, 2002, 2001]
---