| | | |
| --- | --- | --- |
| They came from outer space--and you can have one! Genuine meteorites are now on sale in the Space Weather Store. | | |
PERSEID METEOR SHOWER: Earth is entering a stream of debris from Comet Swift-Tuttle, source of the annual Perseid meteor shower. International observers are now reporting more than 20 Perseids per hour, a number that will increase as the shower reaches its peak on August 12-13.
Last night in Arizona, photographer Marsha Adams caught a Perseid meteor shooting over Ship Rock near Sedona: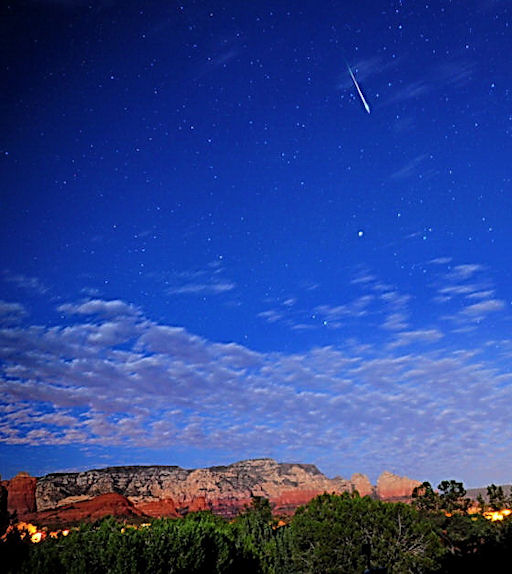 "The meteor was bright enough to be seen through the glaring moonlight that was illuminating the landscape," notes Adams.
On Aug. 10th in Dayton, Ohio, photographer John Chumack recorded a flurry of Perseids. "More than 3 dozen bright meteors rained down over my observatory last night!" he says. "Many were brighter than I expected, so there is still a chance for folks to see some Perseids despite the glare of the bright Moon."
The best time to look is Saturday morning, Aug. 13, just before dawn when the Moon is low and meteor rates are peaking. Some observers will also see the International Space Station, which coincidentally flies over many US towns and cities during the shower's peak: ISS tracker. Also, be sure to tune into Space Weather Radio to hear the ghostly pings of Perseids disintegrating over the US Air Force's Space Surveillance Radar. It makes a great soundtrack for any meteor watch.

What sat was that? The hours before dawn are a great time to see satellites. There are hundreds in Earth orbit, and you're sure to spot some of them while you're watching the Perseids. Your Android phone can tell you which ones you're seeing: Download WhatSat.
more Perseid images: from David Blanchard of Flagstaff, Arizona; from Marco Langbroek of Leiden, the Netherlands;
PARTING SHOTS: Active sunspot 1263, which just two days ago produced the most powerful solar flare of the new Solar Cycle (an X7), has left the Earthside of the sun. It is now beginning a two week transit across the solar farside. We can still see signs of its ongoing activity, however. Just this morning, an eruption hurled a bright CME over the sun's western limb: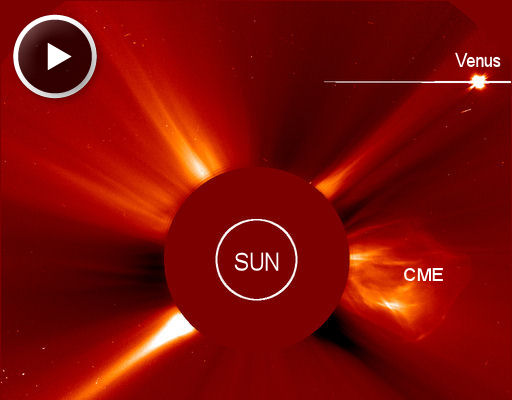 For the next two weeks (the time it takes to transit the sun's farside) no blasts from sunspot 1063 will be Earth directed. For the next few days, however, we could see a few more parting shots. Readers with solar telescopes are encouraged to monitor developments.
TODAY'S BONUS SHOTS: Flying Spectrum from Dave Eagle of Higham Ferrers, England; Michigan Auroras from T. Scott Blankinship of Paradise, Michigan; Dark Rays from Ugur Ikizler of Mudanya - Bursa / Turkey; Striped Sunset from Marie Hall of Bridgeport, Ny
---
August 2011 Aurora Gallery
[previous Augusts: 2010, 2009, 2008, 2007, 2006, 2005, 2004, 2003, 2002]
---
2011 Noctilucent Cloud Gallery
[previous years: 2003, 2004, 2005, 2006, 2007, 2008, 2009]