NAKED-EYE GRB: Scientists are beginning to unravel the mystery of an extraordinary gamma-ray burst on March 19, 2008, which was visible to the naked eye. It turns out the explosion was aimed directly at Earth: full story.
FIREBALL OUTBURST: Yesterday, Sept. 9th, a surprising flurry of bright fireballs lit up the skies of North America. "Our SENTINEL all-sky camera picked up 25 bright meteors in a shower that began at 0620 UT and lasted approximately 4 hours," reports NASA astronomer Bill Cooke of the Marshall Space Flight Center in Huntsville, Alabama. This video "frame-stack" shows the outburst at a glance: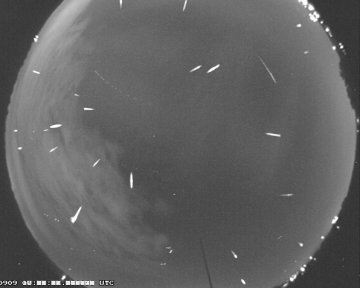 "Most appear to have a radiant near Perseus (3.3h, +43o), leading us to hypothesize an outburst of the September Perseids," says Cooke. The September Perseids come from an unknown comet and typically produce no more than a handful of dim meteors per hour when the shower peaks on Sept. 8th and 9th. This is the first time they have been caught bursting in this fashion. Most of the meteors recorded by the NASA camera were magnitude -2 or brighter, i.e., as bright as Jupiter or Venus.
Ongoing analyses of this outburst may reveal the orbit of the meteoroids, the location of the parent comet (if a comet is indeed the parent), and whether more outbursts are in the offing. Stay tuned for updates.
September Perseid Photo Gallery
[Science@NASA: Lunar Meteors] [Meteor Alerts]
HIGH ART: What do Vincent van Gogh and raindrops have in common? Both make great self-portraits. Here is van Gogh's. And here is the raindrops':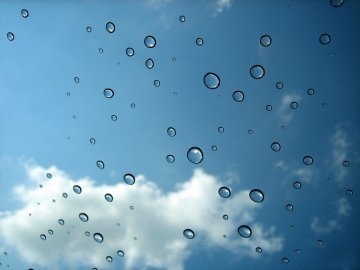 Young Sophie Friedman took the picture just after her father, astrophotographer Alan Friedman, drove their car through a rainstorm in Buffalo, New York. It shows the view through the sunroof. In the full-sized image, look carefully at the raindrops. Each one acts as a tiny lens forming an image of the raincloud above. It is water picturing itself.
"I've been wondering what to call this shot," says Alan. "Now I know." Self Portraits.
Bonus: What else do Vincent van Gogh and raindrops have in common? They both make great pictures of clouds.