| | | |
| --- | --- | --- |
| Turn your cell phone into a field-tested satellite tracker. Works for Android and iPhone. | | |
VOYAGER DISCOVERS MAGNETIC FROTH: NASA's Voyager probes have reached the edge of the solar system and found something surprising there--a froth of magnetic bubbles separating us from the rest of the galaxy. Get the full story from Science@NASA.
WAITING FOR IMPACT: The CME from Tuesday's magnificent flare still hasn't reached Earth. NOAA forecasters haven't given up, though. They estimate a 20% to 30% chance that the cloud may yet deliver a glancing blow to our planet's magnetic field and spark geomagnetic storms during the next 24 hours. High latitude sky watchers should remain alert for auroras. Aurora alerts: voice, text.
While you're waiting, watch the eruption one more time: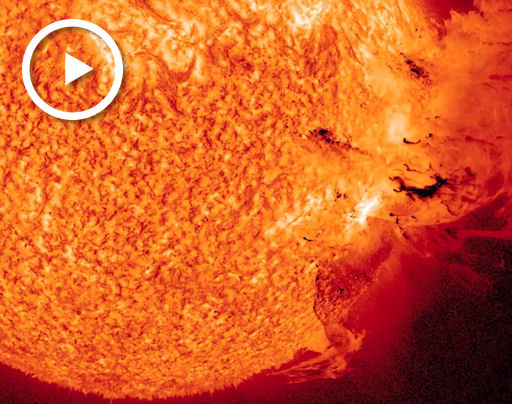 Credit: NASA's Solar Dynamics Observatory.
"It looks like someone kicked a clod of dirt in the air," says solar physicist C. Alex Young of NASA's Goddard Space Flight Center in a Youtube video. "I've never seen material released in this way before--an amazing, amazing event."
Much of the plasma thrown up by the blast simply fell back to the sun--indeed, that's what makes the footage so dramatic. In the movies you can see blobs of hot gas as large as Earth making bright splashes where they hit the stellar surface. Some plasma, however, reached escape velocity and left the sun in the form of a coronal mass ejection: movie.
June 2011 Aurora Gallery
[Aurora alerts: text, voice] [previous Junes: 2010, 2008, 2001]
DROOPY DISH: Drivers traveling down Highway 395 in California's Eastern Sierra are accustomed to seeing a large white dish looming in front of the sandy-brown mountains. It's the 40-meter antenna at Caltech's Owens Valley Radio Observatory. On June 6th local resident Andrew Kirk was passing by the observatory when an extraordinary sight made him stop for a closer look. The antenna was apparently drooping and melting into the ground like a Dali watch: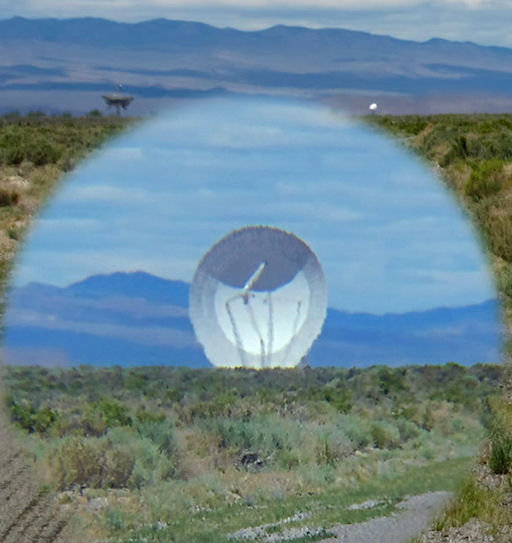 "I realized I had seen a mirage image of the big dish," says Kirk, "so I went back to document it. Sadly, I had only a pocket camera with limited zoom. I improvised, though, and photographed the 'drooping dish' through one barrel of my binoculars. Amazingly, as I watched, the dish began to tilt upwards and within a few minutes it was pointing straight up. Had I passed a bit later I would have missed it."
According to atmospheric optics expert Les Cowley, the phenomenon was caused by "an abnormally warm air layer close to the ground that had a non-linear temperature gradient. The conditions were akin to stages of an Etruscan vase sunset mirage or the inferior mirages seen over sun-heated roads. Strictly speaking, however, this one was a distortion rather than a mirage because the latter is technically reserved for when there is more than one image of the distant object." A full discussion of the drooping dish may be found at Cowley's excellent Optics Picture of the Day website.
Kirk drives by the dish frequently and he's looking forward to a whole summer of warm air and temperature gradients. "I hope to see this again...with my better camera in tow."
---
Midnight Solar Eclipse Gallery
[NASA: A Rare Eclipse of the Midnight Sun]