| | | |
| --- | --- | --- |
| NEW AND IMPROVED: Turn your iPhone or iPod Touch into a field-tested global satellite tracker. The Satellite Flybys app now works in all countries. | | |
ASTEROID SAMPLE RETURN: Nearing the end of a seven year, two billion km odyssey, Japan's Hayabusa spacecraft is set to return to Earth this Sunday (7 am PDT) carrying a piece of near-Earth asteroid Itokawa. The sample return capsule will blaze through the atmosphere over Australia and land via parachute in the remote Woomera Test Range. The Hayabasa mothership will follow the capsule into Earth's atmosphere, but never make it to the ground, instead disintegrating in a spectacular fireball. Stay tuned for updates.
FANTASTIC PROMINENCE: A long filament of magnetism circling the sun's north pole is rising into space, producing a truly fantastic prominence. NASA's Solar Dynamics Observatory took this picture just hours ago: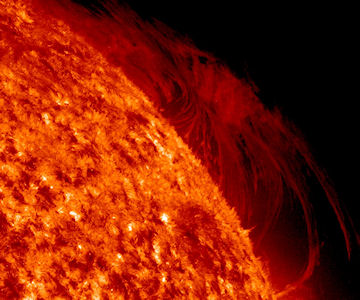 The extreme ultraviolet image shows a cloud of hot (60,000 K) plasma held suspended above the stellar surface by filamentary magnetic forces. The structure is five times taller than Earth and at least 20 times as long. These dimensions make it a fine target for backyard solar telescopes as well as advanced spacecraft.
If the filament becomes unstable and collapses (as magnetic filaments often do), plasma hitting the stellar surface could explode, resulting in a type of flare called a "Hyder flare." To whet your appetite for action, browse the filament in stunning 4096x4096 resolution.
more images: from Pete Lawrence of Selsey, West Sussex, UK; from Robert Arnold of Isle of Skye, Scotland; from Pavol Rapavy of Observatory Rimavska Sobota, Slovakia
WATCH OUT FOR THAT COMET: One wonders... Did the inhabitants of galaxy NGC 891 duck when Comet McNaught flew past the edge-on spiral on the morning of June 8th? Mike O'Connor and Tristan Dilapo took this picture of the cosmic close encounter from Colden, New York: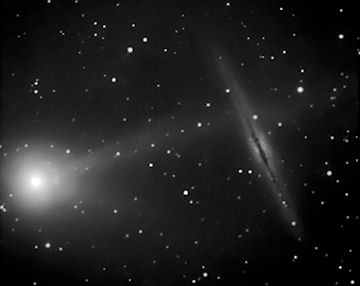 "The comet was only 10 degrees above the horizon," says O'Connor. "Nevertheless, we got a good picture using a 12-inch telescope and an SBIG ST9-E camera."
And, no, the denizens of that distant galaxy did not flinch, flee, duck or take notice in any way. NGC 891 is 30 million light years away, far removed from the willowy tail of Comet McNaught, located right here in our own solar system.
We Earthlings are having the true close encounter. Comet McNaught (C/2009 R1) will approach our planet only 100 million miles away on June 15th and 16th. The approaching comet looks great in small telescopes, and may yet become a naked eye object before the end of the month. Because this is Comet McNaught's first visit to the inner solar system, predictions of future brightness are necessarily uncertain; amateur astronomers should be alert for the unexpected.
Get the full story and a finder chart from Sky & Telescope. See also: ephemeris, 3D orbit.
more images: from Dr Paolo Candy of Ci.A.O. Cimini Astronomical Observatory, Italy; from Michael Jäger of Stixendorf, Austria; from Anthony Ayiomamitis of Athens, Greece; from Primoz Cigler of Bohor, Slovenia; from Pete Lawrence of Selsey, West Sussex, UK; from Feys Filip at the Public Observatory "Sasteria" in Crete; from Monika Landy-Gyebnar of Veszprem, Hungary; from Petr Horalek of Ustupky, Czech republic;
---
May 2010 Aurora Gallery
[previous Mays: 2008, 2005, 2004, 2003, 2002] [aurora alerts]