| | | |
| --- | --- | --- |
| Listen to radar echoes from satellites and meteors, live on listener-supported Space Weather Radio. | | |
WEEKEND SOLAR FLARE: Sunspot AR1429 is still erupting this weekend. On Saturday, March 10th, it produced a powerful M8-class flare that almost crossed the threshold into X-territory. In New Mexico, amateur radio astronomer Thomas Ashcraft recorded a series of shortwave bursts emanating from the blast site: audio. Also, the explosion propelled yet another CME toward Earth: forecast track. The cloud is expected to hit our planet's magnetosphere on March 12th around 1800 UT. A CME from an earlier explosion will arrive much sooner, however. Continue reading.....
INCOMING CME: A CME from sunspot AR1429 is nearing Earth. According to analysts at the Goddard Space Weather Lab, the cloud will arrive on March 11th at 0649 UT (+/- 7 hr). NOAA forecasters say the odds of a strong geomagnetic storm at that time is 50%. Aurora alerts: text, phone.
The same eruption that hurled the CME toward Earth also produced a monsterous tsunami of plasma on the sun. NASA's Solar Dynamics Observatory recorded the shadowy but powerful wave rippling away from the blast site: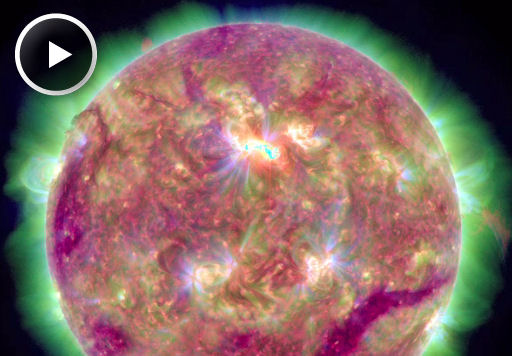 The tsumani was about 100,000 km high and raced outward at 250 km/s with a total energy of about 2 million megatons of TNT. Such waves often underlie CMEs like the one en route to Earth now.
Animated forecast tracks show that the CME will also hit the Mars Science Lab (MSL) spacecraft on March 12th followed by Mars itself on March 13th. Mars rover Curiosity onboard MSL might get some interesting readings as the cloud passes by.
CALM BEFORE THE STORM: Earth's magnetic field is growing quiet again after two days of geomagnetic storming prompted by CME impacts. At the peak of the disturbance on March 9th, Northern Lights were spotted in the United States as far south as the Dakotas, Minnesota, Wisconsin, Oregon, Wyoming, Illinois, Montana, and even Kansas. The finest displays, as usual, were reserved for Alaska: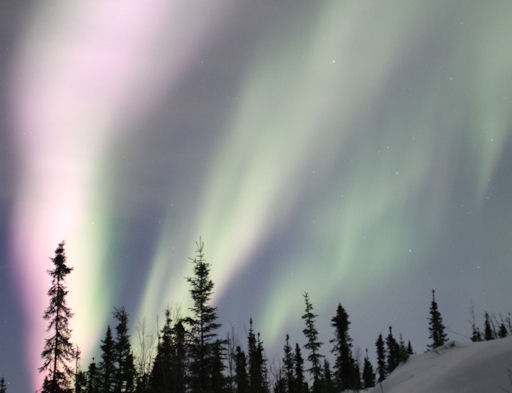 "Almost immediately after sunset, the sky began to fill with ribbons of auroras above Chena Hot Springs (just outside Fairbanks) in Alaska," reports photographer Christopher Freemantle. "The intensity grew until very bright, multicoloured and fast moving auroras were visible."
Although the magnetosphere is calm now, more storms arre in tthe offing. A CME hurled toward our planet by the M6-class solar flare of March 9th is expected to reach Earth during the early hours of March 11th. High-latitude sky watchers should be alert for auroras. Aurora alerts: text, phone.
more images: from Todd Salat north of Anchorage, Alaska; from Dave Headland of Oamaru, Southern New Zealand; from Brian Hall of Edmonton, Alberta; from Ben Podolak of Split Rock Lighthouse State Park, MN; from Ryan de los Reyes of Anchorage, Alaska; from Doug Kiesling of Saint Cloud, Minnesota; from Nick Monk of Mountain River, Tasmania, Australia; from Chris Picking of Owhiro Bay, Wellington, New Zealand; from Ron D of Carrington, North Dakota; from Carlton McMillan of Pine City, Minnesota; from Ben Chorn of Duluth, Minnesota; from Lyle Anderson of Duluth, Minnesota; from Yuichi Takasaka of Lumby, British Columbia; from Imelda Joson and Edwin Aguirre flying 34,000 feet over Minnesota;
---
February 2012 Aurora Gallery
[previous Februaries: 2011, 2010, 2009, 2008, 2007, 2006, 2004, 2003, 2002]