| | | |
| --- | --- | --- |
| WAKE UP! Did you sleep through the auroras of October? Next time get a wake-up call: Spaceweather PHONE. | | |
MIDNIGHT FIREBALLS: Earth is passing through a swarm of gritty debris from comet 2P/Encke and this is causing a slow flurry of Taurid fireballs. Be alert for these very bright meteors anytime after nightfall. You may have to stay outside an hour or more to see one, but one is enough to make the wait worthwhile: gallery.
AURORA WATCH: A solar wind stream is buffeting Earth's magnetic field and causing geomagnetic disturbances around the Arctic Circle. Photographer Rune Christiansen sends this self-portrait from Nuuk, Greenland: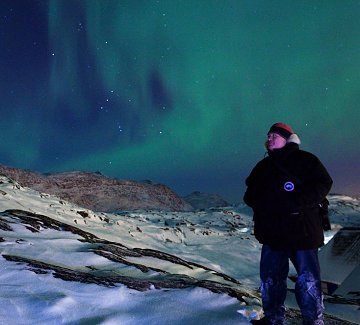 "I made this 20-second exposure using my Canon 5D set at ISO 1000," says Christiansen. "It was great to have clear skies for a change while the auroras were active."
If good weather holds, he might see more tonight. The solar wind continues to blow and high-latitude sky watchers should remain alert for auroras.
Nov. 2008 Aurora Gallery
[Previous Novembers: 2007, 2006, 2004, 2003, 2001, 2000]
SUNSET-FLAVORED JELLO: "Every time I go to watch a Pacific sunset I feel like I'm going out on my very first date," says Mila Zinkova of San Francisco, California. "Tonight (Nov. 6th) my date was oh-so entertaining. A green rim and green flashes danced on the top and the sides of the sun for almost a minute as it descended into the Pacific. The green color was as deep as the ocean itself." She captured the scene in a series of photos: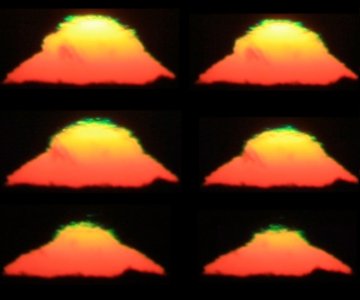 "It reminds me of jello," says atmospheric optics expert Les Cowley. "Near the horizon the sun always sports a slender green rim. Our sphere-shaped atmosphere acts as a lens to lift the sun's image. The blue and green 'suns' are lifted more than the red one, but we rarely see the blue rim because blue light is mostly scattered away to form the sky color above us. The mirage conditions here have distorted the sun and vertically magnified the green rim to generate mini green flashes."
"The California Coast with its cold ocean currents overlaid by warm winds from the land is ideal for seeing sights like these." Sunset jello: another reason to go to the beach!
---
UPDATED: 2008 Taurid Fireball Gallery
[2005 Taurids: on Earth, on the Moon]