Where's Saturn? Is that a UFO--or the ISS? What's the name of that star? Get the answers from mySKY--a fun new astronomy helper from Meade. .

AURORA WATCH: A solar wind stream is heading toward Earth and it could spark a geomagnetic storm when it arrives on Oct. 11th. High-latitude sky watchers should be alert for auroras.

PERUVIAN METEORITE UPDATE: On Sept. 15th, a fireball streaked across the skies of Peru and soon thereafter a watery crater was discovered by local residents near the town of Carancas. At first experts dismissed the connection; the crater didn't look like a meteorite impact. But since then minds have changed:

"Without reservation this is definitely a meteorite," says
astronomy professor Peter Brown of the University of Western Ontario. "We found some infrasound data recorded by a station in La Paz about 70 km away. From the size of the the airwave we can work out the kinetic energy of the impactor--about 0.03 kton TNT."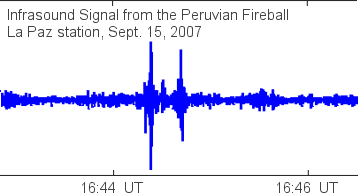 "Something like 20 to 30 kg of the meteorite have already been recovered, but odds are good a multi-ton monster lurks at the bottom of the crater," he continues. "The bad news: It is below the water table, the rainy season is coming and unless some action is taken ASAP, the rock will quickly oxidize and crumble." [more]
Meanwhile, he says, "we are digging for seismic data of the actual impact--the first actual seismic recording of a terrestrial meteorite impact!" Stay tuned.
COMET LONEOS: Tonight after sunset, point your camera below the handle of the Big Dipper, open the shutter for 60 seconds and--voila!--a comet. Last night in Stagecoach, Colorado, physics professor Jimmy Westlake followed this recipe and here is the result:

Photo details: Fuji FinePix S2, Nikkor 300mm lens, f4, ISO800, 62s
"Comet LONEOS (C/2007 F1) is now visible in the evening sky as an 8th-magnitude fuzzball," he says. "In this image, the green comet displays a 1º tail against the stars of Coma Berenices just moments before setting behind the Rocky Mountains." [sky map]
At present the comet is invisible to the naked eye, but this could change by the end of October when Comet LONEOS approaches the sun almost as close as Mercury. Heated by intense sunlight, the comet will spit dust, spew jets of gas and brighten to 4th magnitude. People in dark-sky locations should be able to see the fuzzball with their own eyes.
There's no need to wait, however. In fact, there's every reason to look now. Comet LONEOS is plunging toward the sun and may surprise us with outbursts as sunlight touches fresh veins of ice for the first time. Astronomers, ready your telescopes! [ephemeris] [3D orbit]
more images: a sketch from Martin McKenna of Maghera, Co. Derry, N. Ireland.
---
September 2007 Aurora Gallery
[August 2007 Aurora Gallery] [Aurora Alerts]