AURORA OUTLOOK: Earth is exiting one solar wind stream and heading for another. The old stream sparked bright Northern Lights on Sept. 3rd-6th. The new one could re-energize the display when it arrives on or about Sept. 13th. Sky watchers from Alaska to Scandinavia should be alert for auroras this weekend.
FIREBALL OUTBURST: Yes, it pays to watch the sky. This morning, Sept. 9th, with no warning whatsoever, a flurry of bright fireballs appeared over eastern parts of the United States. "Our SENTINEL all-sky camera picked up 25 bright meteors in a shower that began at 0620 UT and lasted approximately 4 hours," reports NASA astronomer Bill Cooke of the Marshall Space Flight Center in Huntsville, Alabama. This video "frame-stack" shows the outburst at a glance: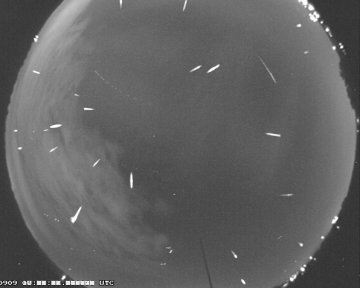 "Most appear to have a radiant near Perseus (3.3h, +43o), leading us to hypothesize an outburst of the September Perseids," says Cooke. The September Perseids come from an unknown comet and this is the first time they have been caught bursting in this fashion. Most of the meteors recorded by the NASA camera were magnitude -2 or brighter, i.e., as bright as Jupiter or Venus. (Correction: An earlier version of this report mistakenly listed previous Sept. Perseid outbursts in 1936, 1986, and 1994. Those were alpha-Aurigids not Sept. Perseids. The author apologises for the error.)
"We encourage people to keep an eye on the sky tonight," says Cooke. "The outburst is almost certainly over, but we don't know enough about these mysterious meteors to say for sure." Stay tuned for updates.
LUNAR METEORS: Experienced amateur astronomers may wish to train their telescopes on the Moon in case the Sept. Perseids strike there, too: more.
QUARTER MOON: "It was a strange sight," says photographer Alan Harpin. "Last night, emerging from the fog, a quarter Moon rose over Trondra, Shetland." Quarter, as in 25%: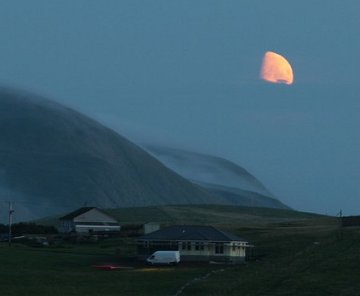 Photo details: Canon 400D, ISO100, f/5.6, 1s
Fast-forward 24 hours to Sept. 9th. Tonight, fog willing, a more fulsome Moon (70% gibbous) will rise over Shetland, this time with planet Jupiter in tow. It's a bright conjunction visible from towns and cities around the world. Check the fractions after sunset: sky map.
more images: from Kiarash Mashoufi of Isfahan, Iran;
---
September 2008 Aurora Gallery
[Past Septembers: 2007, 2006, 2005, 2004, 2002, 2001]