NOAA PREDICTS SOLAR CYCLE 24: Today, an international panel of experts led by NOAA issued a new prediction for Solar Cycle 24: It will peak, they say, in May of 2013 with a below-average sunspot number of 90: full story.
SUNSPOT CORPSES: The farside sunspot that unleashed a powerful CME on May 5th is finally rotating into view. Except it is not a sunspot. The blast site appears to be in a state of decay with only some patches of bright magnetic froth marking where a sunspot group might have been: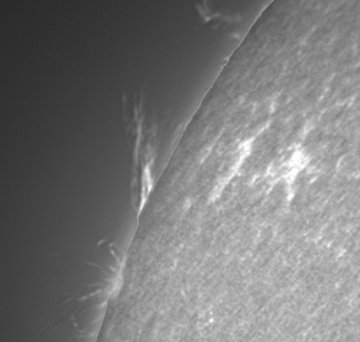 Lars Zielke took this picture on May 9th from his backyard observatory in Tvis, Denmark. "I was lucky to get some images of the new active region just as it appeared over the sun's limb," he says. "In the background there were some very nice prominences, so the scene was set for a grand entrance."
Zielka used a Lunt Ca-K solar telescope. "Ca-K" means the telescope is tuned to the purple glow of singly-ionized calcium. Such telescopes are sensitive to the magnetic froth that often surrounds sunspots and sunspot corpses. According to NASA's STEREO-B spacecraft, which is stationed over the sun's eastern limb, another active region should emerge today. Will it be a genuine sunspot--or another corpse? Stay tuned.
photos: from Stefano Sello of Pisa, Italy; from Pete Lawrence of Selsey, West Sussex, UK; from Mogens Nissen of Denmark; from Matthias Juergens of Gnevsdorf, Germany; from Howard Eskildsen of Ocala, Florida; from Jesper Sorensen of Kastrup, Denmark; from Tom King of Watauga, Texas;
SHADOWS IN THE SKY: Last night when the Moon rose over Key Biscayne, Florida, "a strange phenomenon happened," reports onlooker Emanuele Colognato. "A number of dark beams seemed to be converging on the Moon's location in the east." He quickly photographed the scene through his apartment window: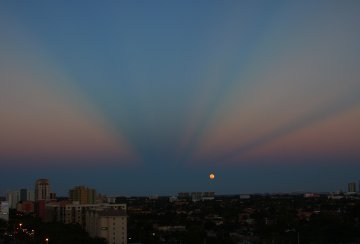 "I call the photo Shadows in the Sky," says Colognato. That's a good name because the dark beams are shadows. As the Moon was rising in the east, the sun was setting in the west. Low-hanging clouds behind Colognato's back blocked the light of the setting sun and cast their shadows all the way across the sky. Perspective effects made the shadows appear to converge on the Moon. Experts call the dark beams anti-crepuscular rays; "Shadows in the Sky" works, too.
more images: from Néstor Camino of Esquel, Chubut, Patagonia, Argentina; from Lenny Kovlak of San Francisco, California; from P-M Hedén of Tänndalen, Sweden;
---
April 2009 Aurora Gallery
[previous Aprils: 2008, 2007, 2006, 2005, 2004, 2003, 2002]
---