| | | |
| --- | --- | --- |
| They came from outer space--and you can have one! Genuine meteorites are now on sale in the Space Weather Store. | | |
ANOTHER CME IS HEADING FOR EARTH: Sunspot AR1429 has unleashed another strong solar flare, an M6-class eruption on March 9th at 0358 UT. The blast hurled a coronal mass ejection (movie) almost directly toward Earth. According to analysts at the Goddard Space Weather Lab, the CME will arrive on March 11th at 0649 UT (+/- 7 hr) adding to the geomagnetic unrest already underway. An animated forecast track shows that the cloud will also hit the Mars Science Lab spacecraft and Mars itself on March 12th and 13th, respectively. Geomagnetic storm alerts: text, phone.
AFTERSHOCKS: At first, yesterday's widely-reported CME impact produced little in the way of Earth effects. Eventually, however, a geomagnetic storm did develop as Earth passed through the wake of the CME. Mild to strong geomagnetic storms are underway around the Arctic Circle, producing auroras like these photographed by Jónína Óskarsdóttir of Faskrudsfjordur, Iceland: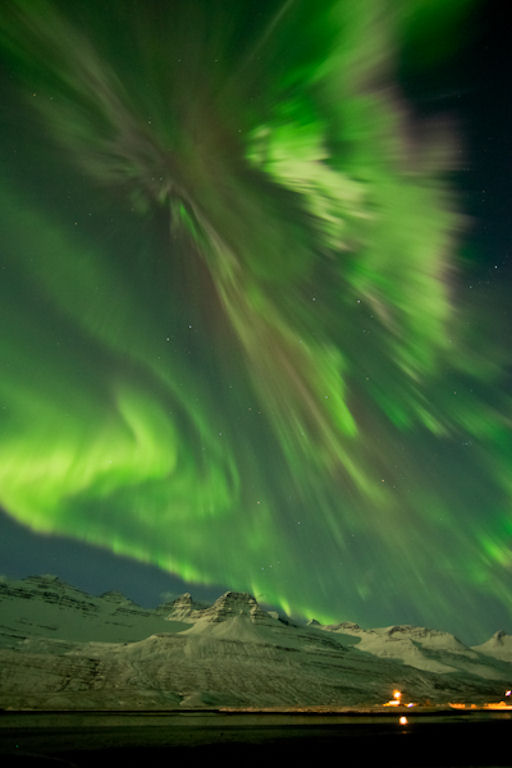 "No words can describe the experience of the Northern Lights show tonight," says Óskarsdóttir. "This is just a 1s exposure!"
High-latitude sky watchers should remain alert for auroras as Earth's magnetic field continues to feel the aftershocks of the CME impact. Aurora alerts: text, phone.
more images: from Ryan de los Reyes of Anchorage, Alaska; from Doug Kiesling of Saint Cloud, Minnesota; from Nick Monk of Mountain River, Tasmania, Australia; from Chris Picking of Owhiro Bay, Wellington, New Zealand; from Ron D of Carrington, North Dakota; from Carlton McMillan of Pine City, Minnesota; from Ben Chorn of Duluth, Minnesota; from Lyle Anderson of Duluth, Minnesota; from Yuichi Takasaka of Lumby, British Columbia; from Imelda Joson and Edwin Aguirre flying 34,000 feet over Minnesota; from David Barthel of Sauk Rapids, Minnesota; from Jerry Zhu of Middleton, Wisconsin; from Friedrich Deters of Spring Lake Park, Minnesota; from Bob Conzemius of Bovey, Minnesota
HUGE SUNSPOT: Active sunspot AR1429 continues to grow. It is now more than seven times wider than Earth, which makes it an easy target for backyard solar telescopes. In fact, yesterday, David Tremblay of Alto, New Mexico, saw it using no telescope at all. All he needed was a dust storm: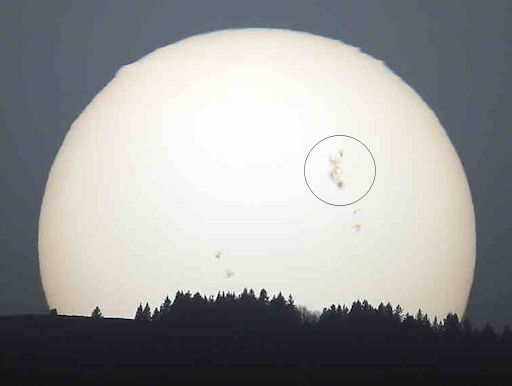 "The dust blowing from Tularosa Basin was so dense, we could observe the sun with the naked eye--and there was sunspot AR1429. Wow!" says Tremblay.
The behemoth spot has unleashed four strong flares since it emerged on March 2nd, including the X5-class eruption of March 7th. More could be in the offing. The active region has a "beta-gamma-delta" class magnetic field that harbors energy for additional X-class eruptions. Solar flare alerts: text, phone.
more images: from Jett Aguilar of Quezon City, Philippines; from James Kevin Ty of Manila, Philippines; from Harald Paleske of Langendorf b. Weißenfels, Germany; from Rogerio Marcon of Campinas SP Brasil; from Monika Landy-Gyebnar of Veszprem, Hungary; from Ron Wayman of Tampa Florida; from John Stetson of Falmouth, Maine; from Robert Lowton of Whaley Bridge, Peak District, United Kingdom; from José Geraldo Mattos of Florianópolis, Jurerê Internacional, Santa Catarina, Brasil; from Matthew Wastell of Brisbane, Australia; from Kiss Csongor of Derecske, Hungary
---
February 2012 Aurora Gallery
[previous Februaries: 2011, 2010, 2009, 2008, 2007, 2006, 2004, 2003, 2002]