| | | |
| --- | --- | --- |
| Where's Saturn? Is that a UFO--or the ISS? What's the name of that star? Get the answers from mySKY--a fun new astronomy helper from Meade. | | |
CRESCENT MOON: When the sun goes down tonight, look toward the western horizon for a super-slender crescent Moon beaming through the glow of twilight. There's no great astronomical significance to the event, just a dose of great beauty. Don't miss it!
AURORA WATCH: Last night a solar wind stream hit Earth's magnetic field, sparking bright auroras around the Arctic Circle and as far south as Michigan in the United States. Travis Favretto describes the scene in Sault Ste. Marie, Ontario: "The glow caught my eye while playing hockey on a backyard rink; it was bright enough to see within the city and even with floodlights beaming down on the ice."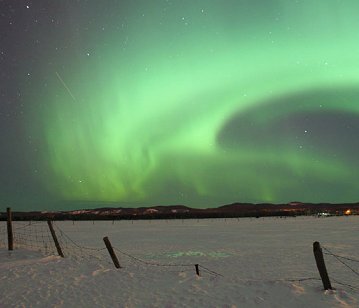 Photo details: Canon 350D, 30 seconds, ISO 1600
"The auroras were incredibly active," adds Beth Allan of Paddle Prairie, Alberta. "They really did look like a river or a ribbon being blown across the sky from one horizon to the other." .
Northern sky watchers should remain alert for auroras tonight. The solar wind continues to blow and NOAA forecasters estimmate a 55% change of more geomagnetic activity: gallery.
ASTEROID FLYBY: Newly-discovered asteroid 2008 EZ7 flew past Earth last night at a distance of only ~100,000 miles. Amateur astronomers Ivan Majchrovic and Tomas Maruska photographed the 18-meter wide space rock racing across the starry skies of Slovakia: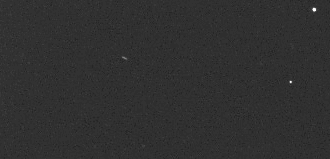 The video consists of ten 4s exposures taken through a 2.5-inch refractor. They used this ephemeris to guide their telescope.
Normally, an asteroid as small as 2008 EZ7 would attract minimal attention. Even if it hit Earth, the result would be little more than a bright fireball and a sprinkling of meteorites across some uninhabited stretch of our planet. 2008 EZ7 may prove to be more interesting, however; rumor has it that a second space rock provisionally named "BJ19377" is following 2008 EZ7 in a similar orbit and will soon make its own close approach. Could this be a twin asteroid flyby? Stay tuned for updates.