AURORA WATCH: A solar wind stream is heading for Earth and it could spark geomagnetic storms around the arctic circle when it arrives on Dec. 11th. High-latitude sky watchers should be alert for auroras.
COLOR-CODED SUNSPOTS: According to one leading solar physicist, the sun is turning blue. David Hathaway of the NASA Marshall Space Flight Center is using red and blue to tag sunspots of the old and new solar cycles. When he plots the color-coded sunspot numbers, it's clear a change is taking place: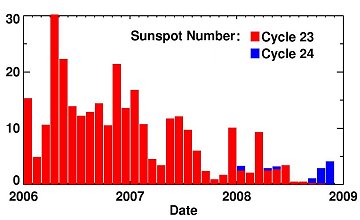 "New Solar Cycle 24 is on the upswing while old Solar Cycle 23 is decaying," he says. The sun is still in the pits of a deep solar minimum, he points out, but the little blue bars in Hathaway's plot show that it won't last forever. An increasing number of new-cycle sunspots in the months ahead should propel the sun out of the doldrums, eventually leading to a full-fledged Solar Max around 2012.
Feeling blue? Now you know why. Stay tuned for updates.
TUMBLING TOOLBAG: The space station's famous sidekick, the ISS Toolbag, is circling Earth and producing flashes of light bright enough to record using off-the-shelf digital cameras. Peter Rosén sends this report from downtown Stockholm, Sweden:
"I photographed the toolbag when it passed above the moon on Dec. 3rd. It was invisible to the naked eye, but my camera (a Canon 40D) detected it in a series of 4 second exposures. The toolbag must be rotating as the light seems to flash and disappear." (continued below)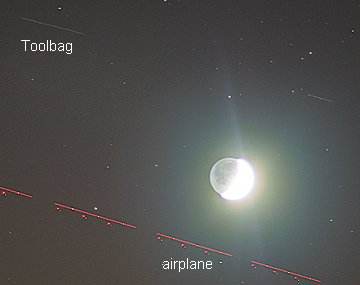 Photo details: Canon 40D, 85mm lens, f/1.2, ISO 100, 26 x 4 sec
He combined 26 images to create this composite. "The other paths are from airplanes; the short interruptions in their lights are caused by the lag between shots." Longer "black-outs" in the path of the toolbag appear to be genuine, a result of tumbling and flashing.
Readers, the toolbag and the ISS are making a series of evening passes over Europe and North America. Check the Simple Satellite Tracker for flyby times.
MORE SIGHTINGS: On Dec. 7th, Kevin Fetter of Brockville, Ontario, video-recorded the toolbag zipping past 6th magnitude star 19 Pegasii: movie. On the same night, Ed Light of Lakewood, New Jersey, saw the toolbag through 10x50 binoculars. "It was varying
slightly and irregularly; I estimate its visual magnitude between 6.5 and 6.8."
---
Great Conjunction Photo Gallery
---
Dec. 2008 Aurora Gallery
[Previous Decembers: 2007, 2006, 2005, 2001, 2000]