| | | |
| --- | --- | --- |
| THERE'S AN APP FOR THAT: You can now experience the Perseid meteor shower on your iPhone. It's cloud-proof! Learn more and give it a try. | | |
PERSEID UPDATE: The Perseid meteor rate is holding steady at 20 per hour, according to observers from the International Meteor Organization: data. Most of these meteors are difficult to see, however, because bright moonlight is blotting them out. The situation should improve on peak night, August 11th and 12th, when as many as 200 meteors per hour are expected to dash through waning moonlight. Get the full story from Science@NASA.
JUPITER IMPACT CLOUD: Debris from the July 19th mystery-impact on Jupiter has split into three clouds. The trifurcation is evident in this August 7th image taken by Rick Schrantz using a 10-inch telescope at his backyard observatory in Nicholasville, Kentucky: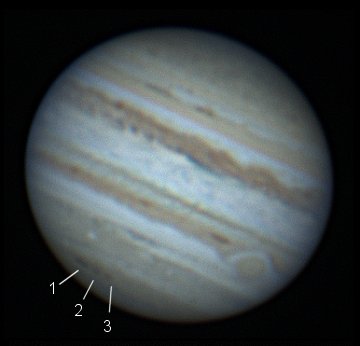 Other observers have noticed the same thing. "There appear to be 3 distinct impact scars now, somewhat linear in shape and perhaps larger than previous days," reports Joel Warren of Amarillo, Texas. He took these pictures using an 8-inch telescope.
Jupiter's upper atmosphere is a dynamic place. The cindery impact debris appears to be caught up in a cascade of turbulent swirls and eddies, which is literally ripping the cloud apart. Amateur astronomers can monitor what happens next: The impact is located near Jupiter's System II longitude 210°. For the predicted times when it will cross the planet's central meridian, add 2 hours and 6 minutes to Sky and Telescope's predicted transit times for Jupiter's Great Red Spot.
more images: from Mike Salway of Central Coast, NSW Australia; from Raffaello Lena of Rome, Italy; from Alphajuno of League City, Texas; from Mike Hood of Kathleen, Georgia, USA
RADIO PERSEIDS: Awash in moonlight, the Perseid meteor shower is at present not very easy to see. Some observers have given up on looking, choosing instead to monitor the shower by means of radio. This plot from Dave Swan shows how he is counting more than 300 Perseid radio echoes per hour using a Yagi antenna and 55.25 MHz receiver in Bransgore, UK: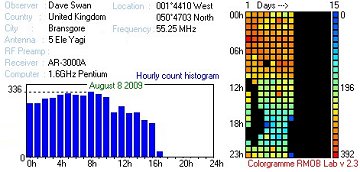 In the loudspeaker, each echo sounds like a little "ping." It is the reflection of a distant TV transmitter from the meteor's ionized trail. Forward scatter meteor detection, as this technique is called, is more sensitive than ordinary visual observation. Very small meteoroids are able to create a radio echo without leaving any trace of optical light in the sky. That's why Swan is counting 300 radio Perseids per hour while naked-eye observers are couting no more than about 20. Click here to monitor forward scatter stations around the world.
UPDATED: 2009 Perseid Photo Gallery
[previous Perseids: 2008, 2007, 2006, 2005, 2004, 2001]
---
2009 Noctilucent Photo Gallery
[previous years: 2008, 2007, 2006, 2005, 2004, 2003]
---
July 2009 Aurora Gallery
[previous Julys: 2008, 2007, 2006, 2005, 2004, 2003]
---