| | | |
| --- | --- | --- |
| Where's Saturn? Is that a UFO--or the ISS? What's the name of that star? Get the answers from mySKY--a fun new astronomy helper from Meade. | | |
SHUTTLE LAUNCH: Space shuttle Atlantis has left Earth on an 11-day mission to the International Space Station (ISS). Photographer Mike Theiss was at Cape Canaveral yesterday and recorded the spectacular launch. The shuttle will deliver the 23,000-lb Columbus science laboratory to the ISS, and the crew of Atlantis will help install it during a series of spacewalks next week: full story.
0.5% MOON: It could be the thinnest crescent you'll ever see. Behold, the 0.5% Moon: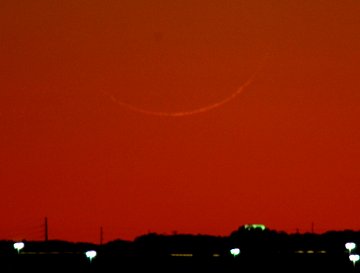 "I took this picture last night about 30 minutes after sunset," says Sam Cole of Austin, Texas. As the sky darkened, "the Moon became visible against the Austin skyline for a grand total of 8 minutes" before following the sun over the horizon. It was a brief window, but he got the shot using his Canon 40D set at ISO 400.
Tonight the illumination of the Moon increases eight-fold to 4%. Look west after sunset for another crescent, second-thinnest.
more images: from Mahdi Rahimi of Esfahan, Iran; from Christophe Stolz of Bern, Switzerland; from Sorin Hotea of Sighet, Romania;
SOLAR ECLIPSE: Something odd happened in New Zealand yesterday. Everywhere, sunbeams dappling the ground turned into crescents: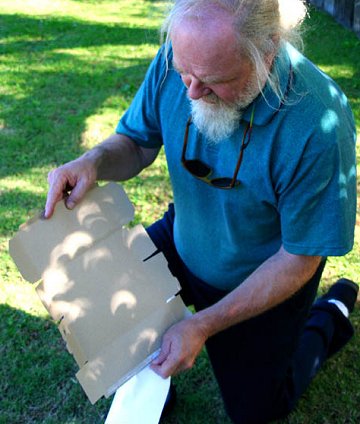 It was a solar eclipse. The Moon passed in front of the sun, off center, altering the normal shape of sunbeams. Pictured above, "Gary Sparks shows how easy it can be to observe an eclipse," says photographer Graham Palmer of Taradale, New Zealand. "By simply holding a bit of card in the light filtering through a tree, we can see the multiple 'crescent suns' that mark the event."
The same phenomenon was observed across much of the South Pacific, from Antarctica to southern Australia. Click on the links for more crescents: from Dave Feldt at the South Pole; from Ian Cooper of Palmerston North, New Zealand; from Andy Dodson of Huirangi, New Zealand; from Troy Arkley of Wellington, New Zealand; from Joerg Schoppmeyer at the Edgewater Resort, Cook Islands; from Jonathan Harris of Porirua, New Zealand; from David of Canberra, Australia; from Andrew Dallow of Canterbury, New Zealand.