Where's Saturn? Is that a UFO--or the ISS? What's the name of that star? Get the answers from mySKY--a fun new astronomy helper from Meade.

COUNTDOWN TO THE PERSEIDS: Earth has entered a stream of debris from Comet Swift-Tuttle and this is causing meteors to flow out of the constellation Perseus. The Perseid meteor rate is low now (< 5 per hour), but it is building to an impressive peak (~100 per hour) due Sunday night, August 12th. Get the full story from Science@NASA.

AURORA WATCH: A high-speed solar wind stream hit Earth on August 6th sparking a moderate geomagnetic storm and auroras bright enough to pierce the twilight in Valkeakoski, Finland: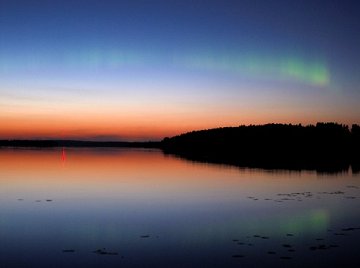 Photo details: Nikon D200, ISO 200, 2 second exposure.
"The 2007 autumn aurora season has finally begun," says photographer Tom Eklund.
Earth is still inside the solar wind stream, but the storm is subsiding. Bright auroras are unlikely tonight. August 9th is the next night to be alert; that's when another solar wind stream is due to arrive.
more images: from Gilles Boutin of St-Jean-Port-Joli, Quebec, Canada
CRESCENT PLANET: Venus has never looked so good. Too bad she's so difficult to see!
Venus is approaching the sun--only 17 degrees away today--which means the brightest planet in the night sky is no longer in the night sky. "But you can pick it up during the day," says Pete Lawrence of Selsey, UK, who yesterday took this picture of Venus in broad daylight: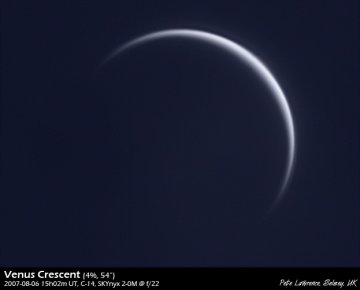 Venus has become a vanishingly slender crescent. Because Venus is now located almost directly between Earth and the sun, the nightside of Venus is facing Earth, creating this stunning view.
So how do you find Venus in daylight? First, be very careful. Catching sight of the sun by mistake in binoculars or a telescope can blind you--permanently. Try this: At local noon, stand in the shadow of a tall building. With the sun completely blocked, scan the sky east of the sun for a bright pinprick among the blue. If the air is clear, Venus is visible even to the naked eye. A small telescope reveals the crescent.
more images: from Helmut Groell of Moers, Germany; from Vasilis Wooseas of Greece; from Günther Strauch of Borken, NRW, Germany.
---
.2007 Noctilucent Cloud Gallery
[Night-Sky Cameras] ["Noctilucent Cloud"--the song]