| | | |
| --- | --- | --- |
| AURORA ALERTS: Did you miss the Northern Lights of June 25th? Next time get a wake-up call from Space Weather PHONE. | | |
DISCOVERIES AT MERCURY: Mercury's magnetic field is "alive." Volcanic vents ring Mercury's giant Caloris basin while the planet itself is surrounded by a nebula of unexpected plasma. These are just a few of the discoveries made by NASA's MESSENGER spacecraft and reported in a special July 4th issue of Science magazine: full story.
SUNSET SKY SHOW: On Saturday night, July 5th, Saturn, Mars, Regulus and the crescent Moon lined up fetchingly across the western sky. Amateur astronomer Alan Friedman, on vacation at Mooselookmeguntic Lake in Maine, photographed the alignment and calls this shot Ducks in a Row:
Two days later, the Moon has moved on, exiting stage left, but the show is not over. Saturn and Mars are rapidly converging for their closest encounter of the next 14 years; on July 10th they'll be a scant 3/4o apart. Look west after sunset in the nights ahead to see the planets in motion.
images: from Hanif Shoaei of Tehran, Iran; from Sam Cole of Austin, Texas; from Wayne Suns of Tulsa, Oklahoma; from Babak Tafreshi of Tehran, Iran; from Milan Gucic of Belgrade, Serbia; from Geir Øye of Ørsta, Norway; from Paweł Dobies of Żędowo, Poland; from Saied Bahrami Nezhad of Bard-sir, Kerman, Iran; from Paco Bellido near Córdoba, Spain; from Mike Salway of Brisbane Water, Australia; from Willian Souza of Joaquim Egidio, Brazil; from David Hough of Newcastle, Australia; from Rick Stankiewicz of Peterborough, Ontario, Canada; from Robbie Merrill of Mesa, Arizona;
SOUTH POLE AURORAS: Imagine walking a mile to work every day in pitch-black dark with air temperatures routinely dipping below -90 F. It might be worth it if you could look up and see this: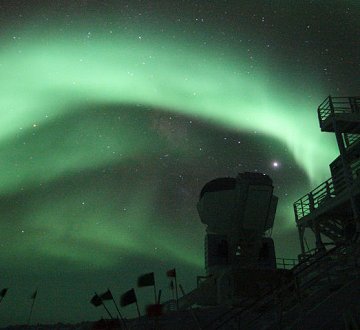 Photo details: Canon Rebel XTi 400D, ISO 1600, 10mm lens, 10s, f4.0
The picture comes from Earth's south pole where "we had a nice display of aurora australis on July 5th," says J. Dana Hrubes, science leader of the Amundsen-Scott Station. Just before he took the picture, the interplanetary magnetic field (IMF) near Earth tipped south, opening a crack in our planet's magnetosphere. Solar wind poured in and fueled the auroras. "That's Jupiter shining just above the silhouette of the South Pole Telescope," he points out.
Every day, Hrubes walks a mile from the main station to the telescope. "This gives me plenty of time to gaze at the sky. The temperature was -84 F when I took today's pictures and I have taken photos down to a temperature of -110.7 F, which is my personal all time low in early August, 2005. You have to take photos as quickly as possible; you never know what is going to freeze first, your camera or your fingers." (Note to cold-weather photographers: Hrubes uses a Canon 400D.)
"We are now getting into the coldest months, July and August, where we will see temperatures below -100 F," he continues. "These are actual static temperatures, not wind chills. Furthermore, the elevation of the site is nearly 10,000 feet and we experience physiological altitudes between 10,500 ft and 12,200 ft during winter." Many people would be put off by such conditions, but not Hrubes. "In four years at the Pole, I have racked up more than 3,000 miles of walking. I am lucky to have a great walk like this to my job 7 days a week."
---
2008 Noctilucent Photo Gallery
[NLC Tutorial] [Night-sky Cameras]