VOTE FOR SOHO: The Solar and Heliospheric Observatory (SOHO) has reached the final round of NASA's Mission Madness tournament where it is competing against upstart SPB, the Super Pressure Balloon, for the title "Greatest NASA Mission." We endorse SOHO. Vote now and help propel a spaceweather favorite to the championship.
SULFUR DIOXIDE LOOP: A loop of sulfur dioxide gas approximately 600 miles in diameter is swirling off the coast of California. It came from Alaska where Mt. Redoubt unleashed its biggest eruption yet on April 4th. Click on the image to launch a 4-day animation of the volcano's SO2 emissions: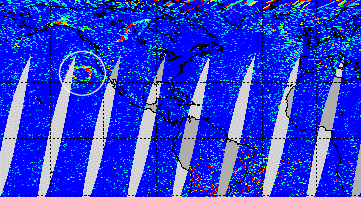 Data source: The GOME-2 sensor onboard Europe's MetOp-A satellite
The April 4th eruption produced a long plume of stratospheric SO2 which has since split. Half is drifting across the northern reaches of Canada; the other half is having a close encounter with the Pacific coast of North America.
Sulfur dioxide and associated aerosols have been known to produce sunsets of exceptional beauty. Examples from the 2008 eruption of Kasatochi may be found here and here. Readers in the path of Redoubt's clouds should be alert for rare colors and rays in the evening sky.
DAYLIGHT TRANSIT: On April 5th, John Stetson of Freeport, Maine, was watching the Moon in broad daylight when a bright light flitted across the Sea of Serenity. It was the International Space Station: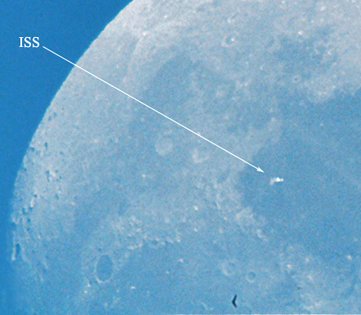 "The ISS passed in front of the Moon at 5:41 p.m.," says Stetson. "At the time, the Moon was 21 degrees above the eastern horizon while the sun was 21 degrees above the western horizon. This was a bright daylight transit."
"A local bird of prey was transiting at the same time, eclipsing a hawk-shaped portion of Mare Imbrium, the Sea of Rains," he notes.
Stetson's photo adds the space station to a short list of things you can see in the daylight sky: The Sun, Moon, Venus, clouds, birds, and now the ISS.
more images: from Pawel Warchal of Zalas, Poland
---
March 2009 Aurora Gallery
[previous Marches: 2008, 2007, 2006, 2005, 2004, 2003, 2002]
---