| | | |
| --- | --- | --- |
| Where's Saturn? Is that a UFO--or the ISS? What's the name of that star? Get the answers from mySKY--a fun new astronomy helper from Meade. | | |
SHUTTLE LAUNCH: Space shuttle Atlantis left Earth this afternoon on an 11-day mission to the International Space Station (ISS). NASA officials say it was a safe and successful launch. The shuttle will deliver the 23,000-lb Columbus science laboratory to the ISS, and the crew of Atlantis will help install it: full story.
SOLAR ECLIPSE: This morning, the Moon passed in front of the sun, off-center, producing a partial solar eclipse visible from Antarctica, New Zealand and parts of Australia. Amateur astronomer Andy Dodson sends the following from Huirangi, New Zealand: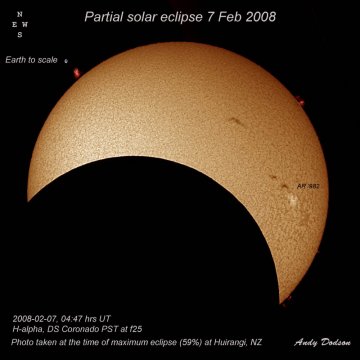 "This is the view through my Coronado PST at maximum eclipse," says Dodson. As beautiful as it was "my neighbor's daughter enjoyed our 'tin man' even more. We poked holes in a little man fashioned from aluminum foil and his eyes projected two images of the eclipse in progress."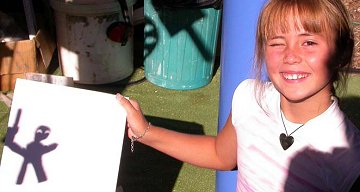 "We were lucky to have cloudless skies for the entire two hour event."
Meanwhile at the South Pole, "the ambient temperature was -58 degrees F with a wind chill of -90," reports Dave Feldt who braved the elements to take these pictures from the Amundsen-Scott South Pole Station. "I used my digital camera fitted with a filter homemade from two layers of aluminized mylar."
more images: from Graham Palmer of Taradale, New Zealand; from Troy Arkley of Wellington, New Zealand; from Jonathan Harris of Porirua, New Zealand; from David of Canberra, Australia; from Andrew Dallow of West Melton Observatory, Canterbury New Zealand
Animated map of the Solar Eclipse
SUN PILLAR: Breakfasting at dawn? Look up from your feed and behold the sky: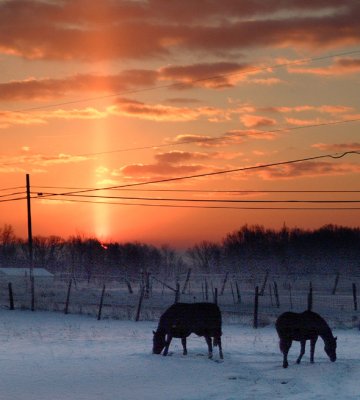 On Jan. 22nd a bright sun pillar sprung up over the pastures of Southington, Ohio. "It was a cold, overcast morning," says photographer Richard Pirko. Plate-shaped ice crystals fluttering to Earth from high clouds reflected the rays of the rising sun and spread them into a golden column of light. Dawn is a marvelous time to see pillars; all you need is a few clouds, a dash of wintry ice, and a pause between mouthfuls.