| | | |
| --- | --- | --- |
| WAKE UP! Did you sleep through the auroras of October? Next time get a wake-up call: Spaceweather PHONE. | | |
PROMINENCE ALERT: "We just looked at the sun with our Personal Solar Telescope and--WOW--there is a huge wreath-shaped prominence on the edge, one of the most unusual I have ever seen" reports amateur astronomer Chris Schur of Arizona. "Check it out!"
TAURID METEORS: The annual Taurid meteor shower is underway and it could be a good show. 2008 is a "swarm year" for the Taurids: Between Nov. 5th and 12th, Earth is due to pass through a swarm of gritty debris from parent comet 2P/Encke. When the same thing happened in 2005, sky watchers observed a slow drizzle of midnight fireballs for nearly two weeks.
Roman Piffl sends this report from Slovakia: "Last night, a very bright Taurid fireball streaked over the northern horizon of Marianka near our capital city Bratislava." He and colleagues Ivan Majchrovic and Tomas Maruska captured the meteor in this 30 second exposure with a Canon 5D: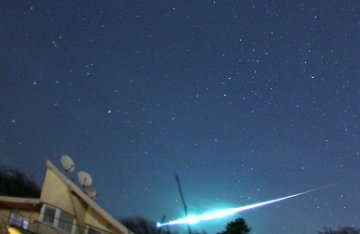 "We estimate the magnitude of the fireball to be -10, about as bright as a quarter Moon," he says.
Readers, be alert for more of these in the nights ahead. The best time to look is anytime after dark. The constellation Taurus (where Taurids appear) rises at sunset and hangs high overhead at midnight: sky map.
KASATOCHI, WEEK 12: Twelve weeks ago in Alaska's Aleutian islands, the Kasatochi volcano erupted. More than a million tons of ash and sulfur dioxide rocketed into the stratosphere, giving rise to sunsets of rare beauty around the northern hemisphere. Those sunsets are still with us....
On Nov. 2nd, "we had another great Kasatochi sunset with bright light and colors!" reports P-M Hedén of Vallentuna, Sweden. He snapped this picture using a Canon 450D: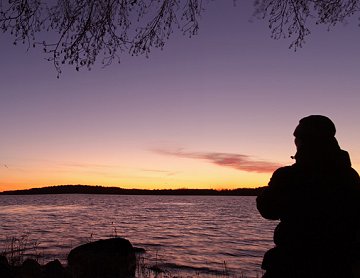 "This sunset has several volcanic hallmarks," says atmospheric optics expert Les Cowley. "Stratospheric ash and sulfate aerosols have scattered light near the horizon to produce an intense yellow twilight arch. Higher up, the sky shows signs of the purple light, a mixture of dust-scattered blue light and reddened sunset rays. Finally, to the left is a long dark shadow across the stratosphere where a low-hanging cloud over the horizon has blocked the sun's light." (Note: The shadow is best seen in the full-sized photo.)
"It's been 12 weeks since Kasotochi erupted. Some volcanoes have given years of colorful sunsets and, who knows, this one could also!"
more images: from Lionel Bernardi of Toulouse, France; from Aymen Ibrahem of Giza, Egypt: from Bizik Péter of Eger, Hungary; from Elaine Parker of Westover, Maryland; from Anne Patterson at the Dingle peninsula, Ireland; from Valentin Grigore of Targoviste, Romania; from John C McConnell of Maghaberry Northern Ireland.
---
Oct. 2008 Aurora Gallery
[Previous Octobers: 2007, 2006, 2004, 2003, 2002, 2001, 2000]