MARTIAN MYSTERY: NASA's Phoenix lander has found something unexpected in the soil of Mars: perchlorate, a compound used in fireworks and rocket fuel and consumed as food by some terrestrial microbes. How does this affect the odds and possible nature of life on Mars? No one knows. Puzzled scientists discussed the finding at a press conference yesterday: text, audio.
GREEN SNOW: Normally, the South Pole is snow white, but on August 4th, the landscape around 90o S turned vivid green: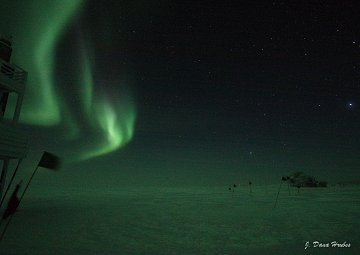 Photo details: Canon Rebel XTi, 15s-30s, 800-1600 ISO, 10 mm Sigma lens, f4.0.
What happened? A plasma bullet struck Earth's inner magnetic field, sparking bright Southern Lights. In the deep Antarctic night, everything turned the color of aurora australis.
"These auroras illuminated the ice surface enough to see the sastrugi I was tripping over while I took the pictures," reports J. Dana Hrubes, caretaker of the South Pole Telescope and science leader of the Amundsen-Scott South Pole Station. "We are enjoying the last full month of aurora watching at the geographic south pole as the sun will be making its return after 6 months on September 21st. In at least one of the photos you can see the South Pole Telescope; it is blurry because it was scanning the sky during the exposure. The bright 'star' is Jupiter."
More auroras are possible on August 10th when an incoming solar wind stream is expected to hit Earth's magnetic field. High latitude sky watchers, be alert for green snow.
SHADOW CONE: Last Friday when the Moon's dark shadow swept across Earth, producing a total eclipse of the sun, the place it touched first was northern Canada. In remote Nunavut, Alan Dyer and seven others boarded a plane and took off to witness the eclipse before anyone else did. Here is what they saw: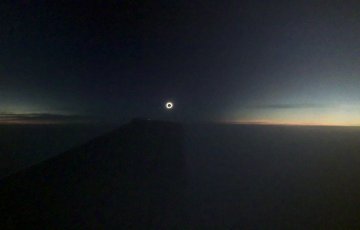 "This wide-angle image shows the eclipsed sun at the apex of the dramatic cone-shaped shadow of the Moon," describes Dyer. "We were located at the beginning of the path of totality. This means the Moon's shadow was an elongated ellipse and it stretched a long way off into the distance. The perspective from our altitude (27,000 feet) made the elliptical shadow look like a cone narrowing down toward the sun. It was a unique view of the eclipse. I'd never seen the Moon's shadow so well defined before. "
Browse the gallery for more stories from the path of totality:
UPDATED: Solar Eclipse Photo Gallery
[interactive eclipse map]