ARIETID METEOR SHOWER: The annual Arietid meteor shower peaks this weekend on Sunday, June 7th. The Arietids are unusual because they are daytime meteors; the shower is most intense after sunrise. Early risers could spot a small number of earthgrazing Arietids during the dark hours before dawn on Sunday morning. After daybreak, you can listen to the shower by tuning into our online meteor radar.
GIANT COVER-UP: Tonight, June 6th, the full Moon is occulting (eclipsing) the red giant star Antares. John Kocijanski of Monticello, NY, took this photo moments before the cover up:
If the Moon is up where you live, go outside and look around the lunar rim for Antares emerging from eclipse. Binoculars may be required to see the star through the intense moonlight. Click here for local timetables.
more images: from John Stetson of Sebago Lake, Maine
VOLCANIC LIGHTNING: On May 19th, adventure photographer Stephen O'Meara was monitoring an eruption of the Rabaul volcano in Papua, New Guinea, when something happened that, he says, "I'll remember for a very long time. A storm cloud approached the volcano's 2 km plume, and lightning began to arc between the two." He set up his camera in a secure location and recorded the "awesome and blinding" spectacle: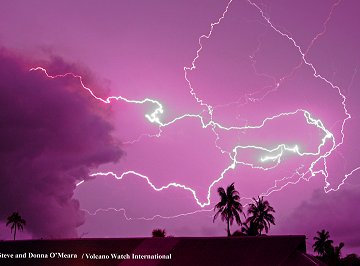 This isn't the first time lightning has been observed around a volcano. Recent examples include Alaska's Mt. Redoubt, Chile's Chaitin volcano and Kilauea in Hawaii. Clouds of water vapor shoot out of these volcanoes in a dusty mixture likened to a "dirty thunderstorm," and lightning emerges from within the turbulent plume. Photos: #1, #2.
But O'Meara's photo shows something different. "I observed a placid eruption column apparently interacting with a passing storm center," he says. "It was cloud to cloud lightning." Not much is known about the mechanisms driving volcanic lighting, so his image of this rare interaction may have scientific value.
UPDATE: On June 3rd, O'Meara took his camera to the Kilauea volcano in Hawaii and saw another bright flash of light in the sky--but this time it wasn't lightning. Click here for details.
---
2009 Noctilucent Photo Gallery
[previous years: 2008, 2007, 2006, 2005, 2004, 2003]
---