| | | |
| --- | --- | --- |
| Listen to radar echoes from satellites and meteors, live on listener-supported Space Weather Radio. | | |
BIG NEW SUNSPOT: New sunspot 1476 is large and crackling with impulsive M-class solar flares. Because of the active region's location near the east limb, the eruptions are not geoeffective, although this could change in the days ahead as the sunspot turns toward Earth. Solar flare alerts: text, phone.
LIVE METEOR RADAR: NASA's all-sky fireball network captured another haul of bright eta Aquarid meteors last night--ten fireballs in all. This suggests that the shower is still active, and might even be peaking, on May 6th. Tune into Space Weather Radio for live echoes from these bits of Halley's Comet as they fly over the US Air Force Space Surveilance Radar in Texas.
SUPER MOON: Last night's full Moon was a "super moon," as much as 14% bigger and 30% brighter than other full moons of 2012. The phenomenon, also known as a perigee moon, is caused by the elliptical shape of the Moon's orbit around Earth. Big, nearby moons like this come along about once a year; they are harmless, beautiful, and, seen from certain angles, very romantic: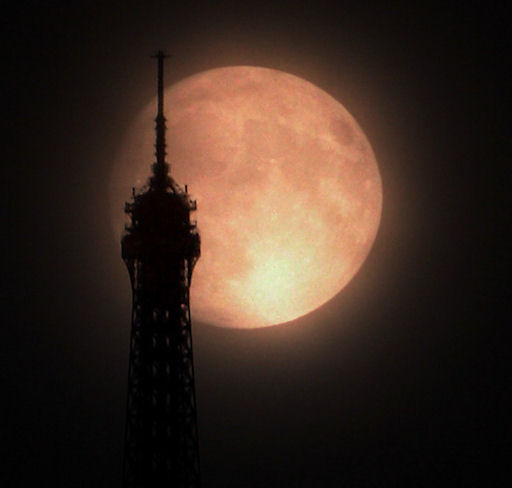 VegaStar Carpentier of Paris, France, took the picture on May 5th.
The moonlight was so intense in Veszprem, Hungary, "the birds started singing because they thought it was morning," reports Monika Landy-Gyebnar. "I went out at 2 AM in almost daylight conditions. The landscape was visible in full color, the sky was vivid blue and only the brightest stars were visible. The perigee Moon lit the world with its full brightness."
more moonshots: from John Minnerath of Crowheart, Wyoming; from Peter Rosén of Stockholm, Sweden; from Kamila Mazurkiewicz of Puławy, Poland; from Halldor Sigurdsson of Reykjavik, Iceland; from Sima Doshmanfana of Yazd, Iran; from P. Nikolakakos of Sparta, Greece; from Veerayen Mohanadas of Simpang Empat, Perak, Malaysia; from George Kourounis of Norman, Oklahoma; from Frederic Hore of Lachine, Quebec; from Jean-Sébastien Roux of Montreal Canada; from Chris Farina of Ann Arbor, Michigan; from Alan Conrad of Liverpool, Nova Scotia; from Dean Verner of Elmvale, Ontario; from David Marshall of Christ Church, Barbados; from José Geraldo Mattos of Santa Catarina, Brasil; from Gustavo Rojas of São Carlos, Brasil
VENUS IS NOT ALONE: When the sun sets tonight, go outside and look west. The Evening Star, Venus, is not alone. Second-magnitude star El Nath is less than a degree away. Marek Nikodem photographed the pair on May 2nd from the countryside near Niedźwiady, Poland: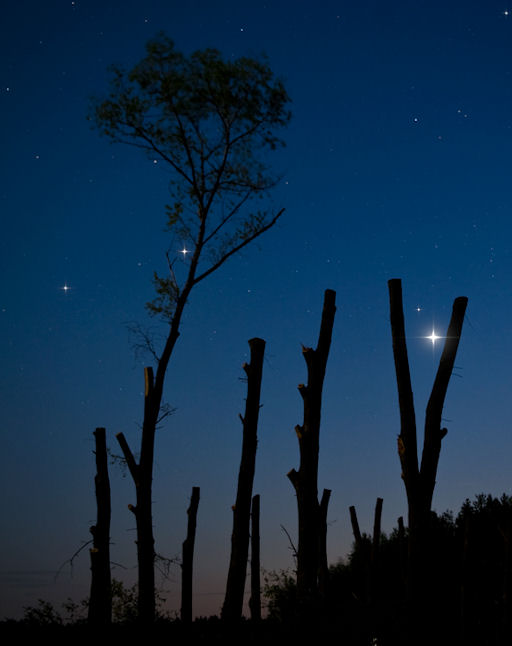 The planet and the star are converging. At closest approach on May 6th (that's tonight), they will be 0.8o apart, a gap so small you can hide it behind the outstreched tip of your index finger.
If you have a telescope, point it at Venus. The planet is at its brightest for all of 2012, and backyard optics easily resolve it into a 27% crescent. Swing over to El Nath for a different experience. The star, which lies 130 light years away, is a pinprick of light unresolved by the most powerful telescopes on Earth.
more images: from John Chumack of Dayton, Ohio; from Gene Taylor near Skyline Arch in Arches National Park, Utah; from Andrea Aletti of Varese, Italy; from Luis Argerich of Buenos Aires, Argentina; from Mariusz Rudziński of Mirostowice Dolne, Poland; from Carlos Rosatti of San Jose, Uruguay;