| | | |
| --- | --- | --- |
| They came from outer space--and you can have one! Genuine meteorites are now on sale in the Space Weather Store. | | |
WEEKEND AURORAS: A weak solar wind stream is brushing against Earth's magnetic field this weekend. In response to the encounter, NOAA forecasters put the odds of a polar geomagnetic storm on April 6-7 at 15%-20%. Aurora alerts: text, voice.
Although the solar wind disturbance is mild, it is nevertheless igniting auroras around the Arctic Circle. Rune Engebø sends this picture from Nupen, Troms, Norway: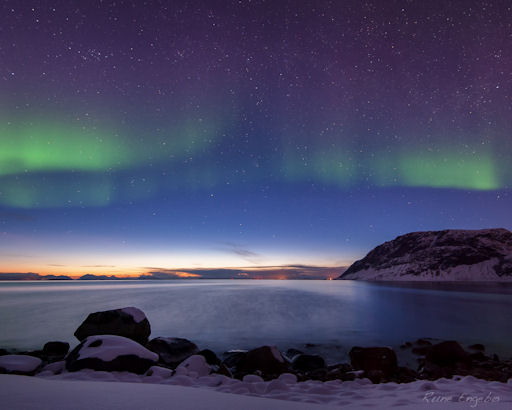 The auroras were bright enough to see through the growing twilight of polar Spring. "Comet Pan-STARRS was visible, too," says Engebø. "Can you find it?"
CHANCE OF FLARES: NOAA forecasters estimate a 30% chance of M-class solar flares today. The likely source would be new sunspot AR1719, now rotating over the sun's eastern limb. The sunspot announced itself on April 5th with an M2-class eruption recorded by the Solar Dynamics Observatory: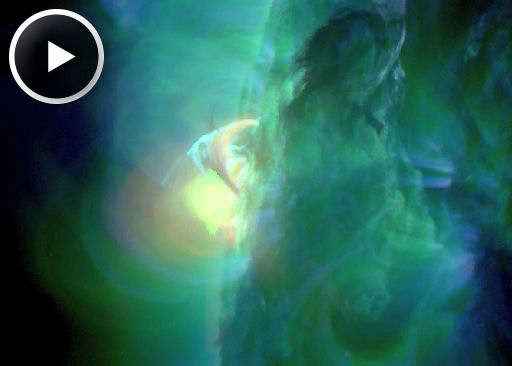 On the Richter Scale of Solar Flares, an M2-category blast is not considered especially intense. Nevertheless, this was one of the biggest flares of the year so far. The reason it stands out is that solar activity in 2013 has been unexpectedly low.
More M-flares are in the offing, but they will not be Earth-directed until AR1719 turns more squarely toward our planet. Geoeffective solar activity could begin early next week. Solar flare alerts: text, voice.
Realtime Space Weather Photo Gallery
OMG: On April 4th, in the western sky at sunset, Comet Pan-STARRS made a photogenic flyby of the Andromeda galaxy. Amateur astronomer Pavel Smilyk of Syktyvkar, Russia, photographed the pair at the hour of closest approach: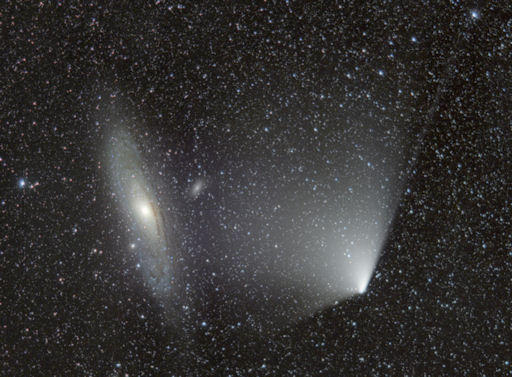 "This is a 27 x 2 minute guided exposure I made using a Canon 1100Da digital camera," says Smilyk. "We had very clear skies."
In this deep exposure, the comet's dusty tail appears to touch the galaxy's outermost spiral arms. In fact, no physical contact occured; the comet is still in the solar system while Andromeda is 2.5 million light years away.
The comet and galaxy are parting now, but slowly, so they will remain a close pair for cameras and wide-field telescopes for several nights to come. Browse the gallery for more close-up images of the ongoing conjunction.
More about Pan-STARRS: NASA video, 3D orbit, ephemeris, light curves.
---
Realtime Space Weather Photo Gallery
---
Realtime Noctilucent Cloud Photo Gallery
[previous years: 2003, 2004, 2005, 2006, 2007, 2008, 2009, 2011]