VOTE FOR SOHO: The Solar and Heliospheric Observatory (SOHO) has reached the final round of NASA's Mission Madness tournament where it is competing against upstart SPB, the Super Pressure Balloon, for the title "Greatest NASA Mission." We endorse SOHO. Vote now and help propel a spaceweather favorite to the championship.
SOLAR ACTIVITY: No sunspots? No problem. Even without those planet-sized islands of explosive magnetism, the sun is putting on a nice show: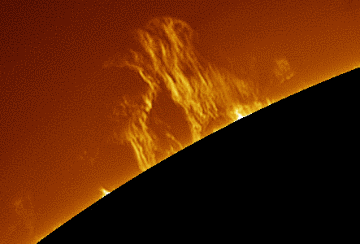 This polar crown prominence, a towering wall of plasma about 50,000 km high, was photographed yesterday by Jerome Grenier using a backyard solar telescope in Paris, France. Grenier's half-hour movie shows a phenomenon sometimes called "plasma falls." Narrow streams of plasma at the top of the prominence are constantly falling back to the bottom. Mysteriously, the streams plummet faster than ambient magnetic forces seem to allow. Nuclear engineers would like to figure out how this happens, because it also happens on a smaller scale in fusion reactors on Earth, frustrating their efforts to sustain an energy-producing reaction. Maybe prominences hold the key to the problem.
Or maybe they're just fun to watch. Readers, if you have a solar telescope, point it at the limb of the sun and enjoy the show.
more images: from James Kevin Ty of Manila, the Philippines; from N. Ferrin, J. Harmon and John Stetson of South Portland, Maine; from Eric Roel of Orion Observatory, Rancho La Compañía, México; from Greg Piepol of Rockville, Maryland; from Steve Rismiller of Milford, Ohio; from Stefano Sello of Pisa -Italy;
SULFUR DIOXIDE ON THE MOVE: When Mt. Redoubt erupted on April 4th, it shot a plume of sulfur dioxide into the lower stratosphere. That plume is on the move. The GOME-2 (Global Ozone Monitoring Experiment) sensor onboard Europe's MetOpA satellite is tracking the SO2 as it twists and curls across North America. Follow the red pixels in this 3-day (April 3-5) animation: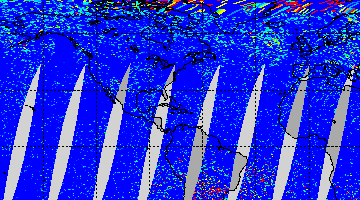 Click for a full-sized map with labels
Sulfur dioxide and associated aerosols have been known to produce sunsets of exceptional beauty. Examples from the 2008 eruption of Kasatochi may be found here and here. Readers in North America should keep an eye on the western twilight sky in the evenings ahead as the cloud makes its way across the continent. Stay tuned for updates.
---
March 2009 Aurora Gallery
[previous Marches: 2008, 2007, 2006, 2005, 2004, 2003, 2002]
---