The space station is visible in the night sky this month. Would you like to see it? Sign up for Spaceweather PHONE.
WHERE HAVE ALL THE SUNSPOTS GONE? The sun has been remarkably blank lately. Solar physicists say this is a sign that solar minimum has arrived: full story.
JUPITER'S NEW RED SPOT: For centuries, the Great Red Spot has reigned supreme among storms on Jupiter. The anti-cyclone has 250 mph winds and is big enough to swallow two planet Earths. Jupiter has other storms, too, but none like the Great Red Spot.
Until now. A new red spot has appeared on Jupiter, about half the size of the original and nearly the same color. Amateur astronomer Christopher Go of the Philippines took its picture on February 27th: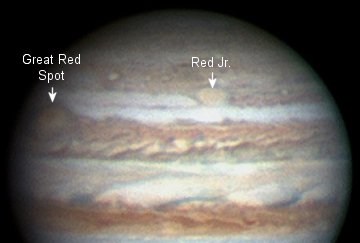 "Red Jr." was born 6+ years ago when three smaller storms collided. (Many astronomers believe the Great Red Spot was born the same way--by merger.) At first the new storm was white, the color of its progenitors, but now it is turning red, a sign of intensification. Will Red Jr. eventually grow to rival the Great Red Spot--or remain junior? No one knows. But you can watch, because both red spots are big enough to see through backyard telescopes: sky map.
MORNING COMET: Was the sky already blue when you woke up this morning? Then you missed it--the crack-of-dawn comet show. The "star" is Comet Pojmanski hanging low in the east before sunrise: sky map.
This comet is barely visible to the naked eye, but it is a pleasing target for backyard telescopes, displaying a vivid green head and a long sinuous tail. Mike Holloway of Van Buren, Arkansas, snapped this picture on March 3rd: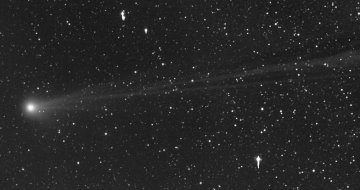 Comet Pojmanski is receding from Earth and fading; catch it while you can.
more images: ; from Chris Schur of Payson, Arizona; from Dimitrios Kolovos of Athens, Greece; from Darrell Spangler at the Rocky Mountain National Park; from John McClintock of Johnsville, Ohio; from Pete Lawrence of Selsey, West Sussex, UK; from Babak A. Tafreshi of Damavand, Iran;