MONSTER PROMINENCE: Readers, if you have a solar telescope, train it on the sun's eastern limb. A large plume of plasma is dancing there and may soon erupt: SOHO image.
more images: from Hank Bartlett of Newburgh, Ontario, Canada; from Stephen Ames of Hodgenville, Kentucky;
GREAT CONJUNCTION: When things on the ground are lousy, sometimes it helps to look at the sky. On Dec. 1st, Venus, Jupiter and the Moon gathered over India and smiled down on troubled Mumbai: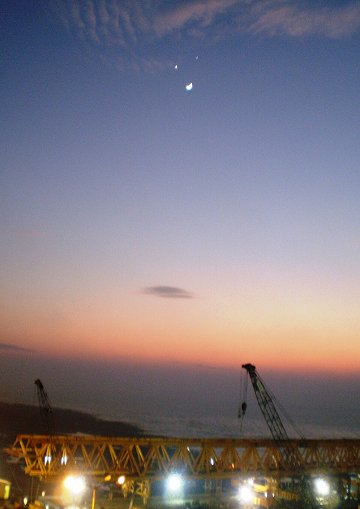 "After the terrorist attack, Mumbaikars were grieving their friends who passed away," says photographer Ulhas Deshpande, "This apparition in the heavens came as a blessing and encouraged them to carry on."
Best wishes to the people of Mumbai from Spaceweather.com. Keep looking up.
UPDATED: Great Conjunction Photo Gallery
TUMBLING TOOLBAG: The space station's famous sidekick, the ISS Toolbag, is circling Earth and producing flashes of light bright enough to record using off-the-shelf digital cameras. Peter Rosén sends this report from downtown Stockholm, Sweden:
"I photographed the toolbag when it passed above the moon on Dec. 3rd. It was invisible to the naked eye, but my camera (a Canon 40D) detected it in a series of 4 second exposures. The toolbag must be rotating as the light seems to flash and disappear." (continued below)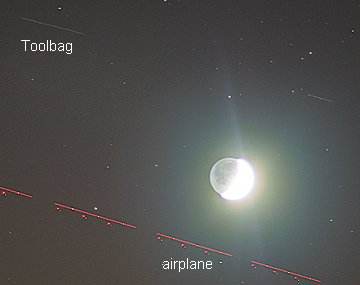 Photo details: Canon 40D, 85mm lens, f/1.2, ISO 100, 26 x 4 sec
He combined 26 images to create this composite. "The other paths are from airplanes; the short interruptions in their lights are caused by the lag between shots." Longer "black-outs" in the path of the toolbag appear to be genuine, a result of tumbling and flashing.
Readers, the toolbag and the ISS are making a series of evening passes over Europe and North America this weekend. Check the Simple Satellite Tracker for flyby times.
---
Nov. 2008 Aurora Gallery
[Previous Novembers: 2007, 2006, 2004, 2003, 2001, 2000]