A "SECRET LAYER" OF THE SUN: NASA researchers are preparing to launch an experimental telescope that can see a "secret layer" of the sun thought to be the birthplace of space weather. Get the full story from Science@NASA.
RELENTLESS KASATOCHI: Nearly a month after the eruption of Alaska's Kasatochi volcano, the volcanic sunsets continue. Doug Zubenel of De Soto, Kansas, sends this snapshot taken at the end of the day on Sept. 4th: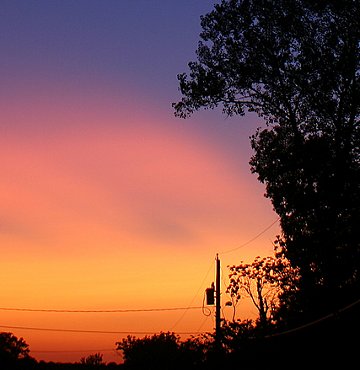 "A cold front moved through our area during the past 24 hrs, leaving very clear skies at sunset," says Zubenel. "The aerosols from Kasatochi, however, were in great evidence, painting the twilight sky pink and orange!"
The message; Get used to it. Kasatochi's stratospheric ash cloud has circumnavigated the northern hemisphere and might not disperse for months. When the sun goes down (or comes up) look for subtle pink waves, dramatic purple rays and campfire-red horizons. They won't appear every day, but even a single visit from Kasatochi can be unforgettable.
more images: from Jim Werle of Las Vegas, Nevada; from Jeff Hapeman flying 11,000m over southern Greenland; from Gary Honis at the Chery Springs Dark Sky Park in Cherry Springs, Pennsylvania; from Mark E. Peter of Highland County, Ohio; from Hugh Helmick of Inyokern, CA; from Tadd Parris of Minneapolis, Minnesota
AURORA WATCH: "Last night's Northern Lights were by far the most incredible I've seen this year," reports Remi Boucher in Dawson City, Yukon. "They were bright and moved very quickly." He took this picture looking straight up: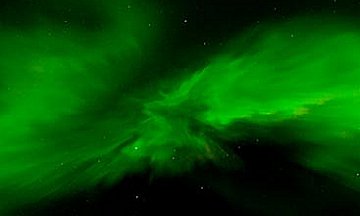 Similar displays could appear tonight. A solar wind stream is buffeting Earth's magnetic field, causing intermittent geomagnetic storms. Sky watchers in Alaska, Canada and Scandinavia should be alert for auroras.
UPDATED: September 2008 Aurora Gallery
[Past Septembers: 2007, 2006, 2005, 2004, 2002, 2001]