ISS FLYBYS: If you live in North America, be alert for the ISS this week. The International Space Station is making a series of bright passes over the continent, visible in the evening sky if you know when to look. Check the Simple Satellite Tracker for flyby times.
photos: from John Boudreau of Saugus, Massachusetts; from Joe Ricci of Rochester, New York
NEW MEXICO FIREBALLS: On Aug. 4th, a bright fireball streaked across the skies of New Mexico. Amateur radio astronomer Thomas Ashcraft not only photographed the meteor, but also recorded the "sweet stereophonic shimmering" echoes of distant radio stations bouncing off its ionized trail. Click to listen.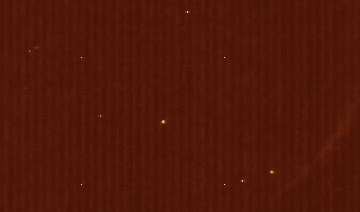 As regular readers know, the annual Perseid meteor shower begins this week, slowly at first, with just a few meteors per hour, then building to a peak dozens of times more intense on Tuesday, August 12th. The source of the shower is Comet Swift-Tuttle, which has littered the August portion of Earth's orbit with space dust.
Yet "this fireball was not a Perseid," notes Ashcraft. It did not fly out of the constellation Perseus as a genuine speck of Comet Swift-Tuttle would. Instead, it was probably a random piece of comet or asteroid, not part of any organized debris stream. Every hour of every night, a few such "sporadic meteors" can be seen from any location on Earth. Most are feeble, but some produce brilliant fireballs, as shown above.
Keep an eye on the sky in the nights ahead. The Perseids are coming and the sporadics are already here. [full story] [sky map]
UPDATE: "There was another nice bursting fireball this morning, Aug. 5th, but still not a Perseid," reports Ashcraft. Click here for images.
GEOGRAPHY QUIZ: A chill breeze cuts the desert heat. Suddenly, Mercury materializes in the afternoon sky, even though the sun has not set. Cheers break out from a 500-year-old watchtower. From these clues, can you guess when and where you are? Scroll down ...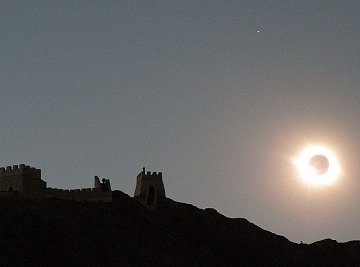 ... for the answer: Jiayuguan, China, on August 1st, 2008, during a total eclipse of the sun. "I was able to find a place to combine the Great Wall of China with the eclipse," says photographer Janne Pyykkö. He positioned himself at the Jiayuguan Pass, in the Gobi Desert, at a section of wall constructed during the Ming Dynasty (1368-1644). "In one of the towers, several people were cheering."
Browse the gallery for more stories from the path of totality: