| | | |
| --- | --- | --- |
| Are we alone? Your iPhone has the answer. Download the all-new Drake Equation app to calculate the population of the Milky Way. | | |
WISCONSIN AURORAS: An unexpected geomagnetic storm (Kp=5) during the early hours of July 5th sparked Northern Lights as far south as Wisconsin. Tony Wilder was in a boat racing across Lake Wissota when he noticed and photographed the display. "Mother Nature gave us a Grand Finale for the 4th of July," he says.
ELECTRIC BLUE CLOUDS: When noctilucent clouds (NLCs) first appeared in the 19th century, they were a high-latitude phenomenon. You had to travel toward the poles to see their electric-blue glow. Not anymore. Just this past weekend, NLCs spilled over the Canadian border into the lower United States as far south as Denver, Colorado. Flying 33,000 feet over the Mile High City on July 2nd, Brian Whittaker snapped this picture from the window of a passenger jet: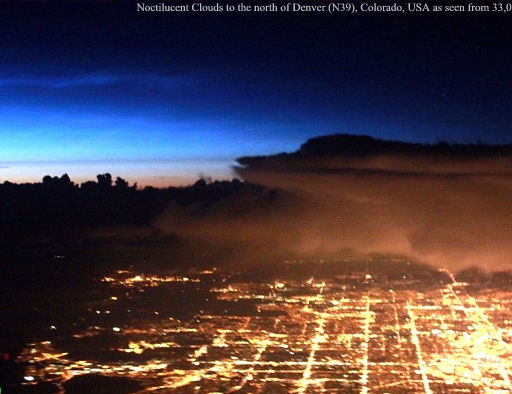 Whittaker is a long time observer of NLCs from planes flying much further north. "I was amazed to see them at 39 degrees latitude over the USA," he says.
Another long time observer, University of Colorado atmospheric sciences professor Richard A. Keen was located just underneath the storm clouds in Whittaker's photo. "Rats!" says Keen. "I was watching for NLCs, but all I saw was rain."
During the peak of the display on July 1-2, NLCs were seen in Washington state, Oregon, Montana, North and South Dakota, Minnesota, Colorado and Kansas. Keen notes that the sightings in Colorado (lat 39.8N) and Kansas (lat 38.9N) are among the most southerly sightings ever. "The lowest-latitude sighting I know of was by Craig Coutlee in Ignacio, Colorado on June 22, 1999, the same day as my sighting near Boulder," recalls Keen. "Craig was at 37.1N latitude, just north of New Mexico."
The latest outbreak continues a trend in recent years of NLCs spreading to ever-lower latitudes. Is this a sign of climate change? Some researchers think so. Sky watchers everywhere are encouraged to be alert for electric blue just after sunset or before sunrise; observing tips may be found in the 2011 NLC gallery.
2011 Noctilucent Cloud Gallery
[previous years: 2003, 2004, 2005, 2006, 2007, 2008, 2009]
AFTER THE FIREWORKS: The fireworks have subsided, but a bright light is still flashing across the sky--the International Space Station. Dennis Mammana saw it last night over Southern California's Anza-Borrego Desert: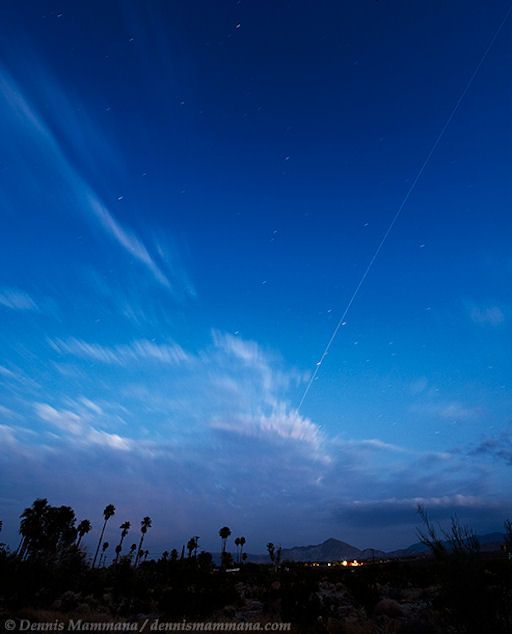 "At dusk on July 4, 2011, the ISS made a bright pass over the desert, and passed in front of the bright star Antares just before drifting behind thunderhead clouds on the southeastern horizon," says Mammana.
The space station will continue to fly over sites in the USA for the next few evenings. Check the Simple Satellite Tracker (or your cell phone) to find out when to look.
---
June 2011 Aurora Gallery
[Aurora alerts: text, voice] [previous Junes: 2010, 2008, 2001]
---