| | | |
| --- | --- | --- |
| Metallic photos of the sun by renowned photographer Greg Piepol bring together the best of art and science. Buy one or a whole set. They make a stellar gift. | | |
GEOMAGNETIC STORM: A coronal mass ejection hit Earth's magnetic field on June 4th, sparking a G2-class geomagnetic storm and Northern Lights as far south as Wisconsin and Minnesota in the United States. NOAA forecasters estimate a 25% chance of more storming today as the disturbance subsides. Aurora alerts: text, voice.
aurora images: from Salllie Carlson of Lutsen, Minnesota, USA; from Boutin Gilles of St-Michel de Bellechasse Québec Canada; from Dirk Miller of Rice Lake, Wisconsin; from Noah Weston of Madison, Maine, USA; from Dominic Cantin of Québec city, Québec, Canada;. from Brian Larmay of Pembine Wisconsin; from Rodrigo Roesch of Green Bay, WI;
NOCTILUCENT CLOUDS: The 2011 season for noctilucent clouds (NLCs) is underway, and it is intensifying. Observers are now reporting electric-blue waves and filaments in the sunset skies of both Europe and North America. Last night, Bob Conzemius photographed a vivid display over Trout Lake, Minnesota, and--bonus--he caught some Northern Lights, too. Click on the image to set the scene in motion: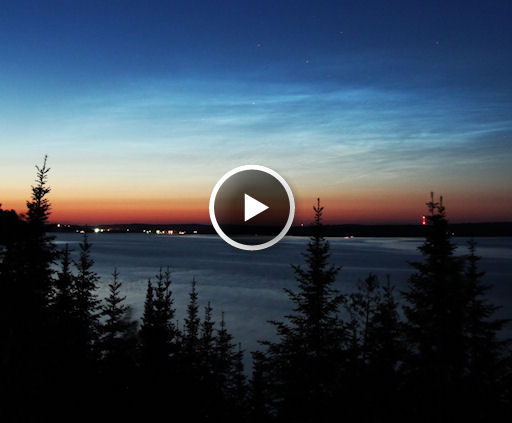 NLCs are a summertime phenomenon. In the upper atmosphere, 80+ km high at the edge of space itself, tiny ice crystals nucleate around microscopic meteoroids and other aerosols; when the crystals catch the rays of the setting sun, they glow electric blue. Ironically, these highest and coldest of clouds form during the warmest months on the ground.
Noctilucent clouds first appeared in the 19th century after the eruption of super-volcano Krakatoa. At the time, people thought the clouds were caused by the eruption, but the clouds persisted long after Krakatoa's ash settled. In those early days, NLCs were a polar phenomenon, mainly seen in far-northern places such as Scandinavia or Alaska. In recent years they have intensified and spread with sightings as far south as Utah and Colorado. A NASA spacecraft named AIM is in orbit to investigate.
Readers, especially you at high latitudes, be alert for NLCs in the evenings ahead. Observing tips may be found in our 2009 Noctilucent Cloud Gallery.
more images: from Mikael Johannesen of Hvidovre, Denmark; from Rance Ball of La Ronge Sk Canada; from Emil Harritz of Kjeldbjerg, Denmark; from Jesper Grønne of Silkeborg Denmark; from Sallie Carlson of Lutsen, Minnesota; from Martin McKenna of Maghera, Co. Derry, N. Ireland;
ON THE EDGE: Amateur astronomers around the world are reporting strong activity on the limb of the sun. "The prominences on June 4th were gigantic," says Mike Borman, who photographed this specimen from his backyard observatory in Evansville, Indiana: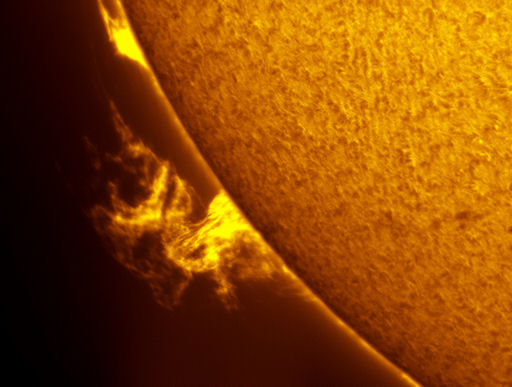 Prominences are clouds of hot plasma held above the stellar surface by unstable magnetic fields. They can shift, subside, surge, and sometimes even explode--almost anything is possible. Readers with solar telescopes are encouraged to monitor developmemnts.
more images: from Eric Roel of Valle de Bravo, Estado de México; from John Stetson of Falmouth, Maine; from Cai-Uso Wohler of Bispingen, Germany; from Jesus Carmona de Argila of Madrid (SPAIN); from Didier Favre of Brétigny-sur-Orge, France; from Greg Piepol of Rockville, Maryland; from Michael Buxton of Ocean Beach, California; from Monty Leventhal OAM of Sydney. Australia; from Theo Ramakers of Social Circle GA; from Michael Boschat of Halifax,Nova Scotia, Canada; from Peter Desypris of Syros,Greece; from Raymond Lalonde of Cornwall, ON, Canada;
---
Midnight Solar Eclipse Gallery
[NASA: A Rare Eclipse of the Midnight Sun]
---
April 2011 Aurora Gallery
[previous Aprils: 2010, 2009, 2008, 2007, 2006, 2005, 2004, 2003, 2002]