| | | |
| --- | --- | --- |
| NEW AND IMPROVED: Turn your iPhone or iPod Touch into a field-tested global satellite tracker. The Satellite Flybys app now works in all countries. | | |
THE SUN AWAKENS, NASA IS WARY: The sun is waking up from a deep slumber, and the next few years could bring much higher levels of solar activity. NASA is keeping a wary eye on the sun as officials meet in Washington DC on June 8th to discuss the potential consequences of stormy space weather. Get the full story from Science@NASA.
JUPITER IMPACT! Amateur astronomers Anthony Wesley of Australia and Christopher Go of the Philippines have independently observed an impact event on Jupiter. The strike occurred at 20:31 UT on June 3rd and produced a bright flash of light in the giant planet's cloudtops: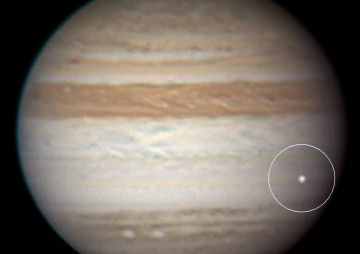 Photo credit: Anthony Wesley, Broken Hill Australia
"I still can't believe that I caught a live impact on Jupiter," says Go, who has made a must-see video of the event.
"There were no visible remains at the impact point for the next half hour or so, until sunrise put an end to the imaging," says Wesley.
The nature of the impactor is presently unknown. It might have been an asteroid or a comet. In either case, a dark and cindery debris field is expected to develop around the impact point; that's what has happened in the aftermath of previous Jupiter impacts. Astronomers are encouraged to monitor Jupiter, and stay tuned for updates.
Update #4 (June 5, 1200 UT): "This morning I woke up at 6 am local time (9 UT) to see Jupiter with my 120 mm refractor," reports Mariano Ribas of Buenos Aires, Argentina. "The planet was high in the sky (45-50° over horizon). I observed carefully for almost two hours with my telescope, using 110 to 200 x, but I saw nothing at all in the impact zone, which transited at 10:51 UT."
Update #3 (June 4, 2200 UT): A full day has elapsed since the flash, and many observatories have imaged the impact site. So far, a prominent debris cloud has not emerged. Was this impactor too small to produce much debris? Observations will continue...
Update #2 (June 4 1500 UT): Wesley has posted a 46 MB video of the impact on his web page. A smaller version is available here.
Update #1 (June 4, 0100 UT): Anthony Wesley has pinpointed the impact site at Jovian latitude minus 16.1o, and central meridian longitudes CM1: 300o, CM2: 33.8o and CM3: 210.4o.
CORONAL HOLE: NASA's Solar Dynamics Observatory is monitoring a dark rift in the sun's atmosphere. The spacecraft's Atmospheric Imaging Assembly (AIA) took this extreme ultraviolet picture just hours ago: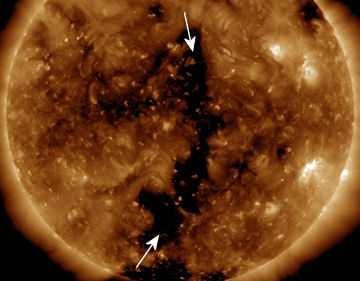 It's a "coronal hole," a vast region where the sun's magnetic field has opened up and allowed the solar wind to escape. Indeed, a solar wind stream flowing from this hole is heading toward Earth, due to arrive on June 7th or 8th. High latitude sky watchers should be alert for auroras on those dates.
Hi-res Bonus: A 4096x4096 pixel version of this image is available. Click here to explore the coronal hole in high resolution.
Hi-res Bonus #2: "I was examining the dark rift on the sun, when I noticed a peculiar and familiar image," says Micheal French of Washington DC. "At 1988x2645 on the high-res image, there is a design that looks like a human eye: image. I scoff at such things, the face on Mars, etc, but you must admit they are pretty neat. I think our brains are designed to find familiar things, and mine did just that."
---
May 2010 Aurora Gallery
[previous Mays: 2008, 2005, 2004, 2003, 2002] [aurora alerts]